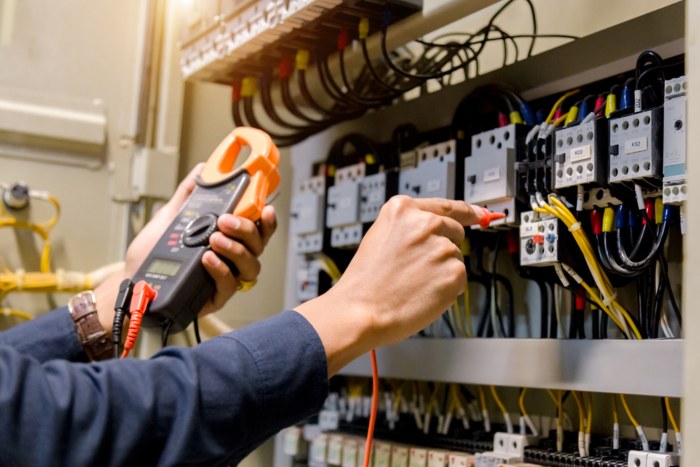 Electrical Load Calculation
If you ever experienced circuit breaker tripping, it likely indicated that your electrical system was overloaded. And this is a benign sign, while more hazardous ones may result in fire or even shock. One of the ways of avoiding extra pressure on your circuit is to know how to make electrical load calculations. Using simple math, you can determine whether you have an adequate current load in your house or apartment.
The starting point here would be to know the voltage of your circuit breaker or main service panel.
How Can I Figure Out The Voltage of My Service Panel?
Most homes in Los Angeles have either 120 or 240-volt circuit breakers. Finding out the current-voltage is possible by looking at your breaker. For example, a single breaker switch is likely to have 120V, while a double breaker may indicate a 240V switch.
Another method of figuring out the voltage is checking the wiring. For this, you need to shut off the power to the breaker to avoid potential electrocution. Then, look into the circuit box. If you see black and white wires (don't touch them!), you are likely to have 120V. If you see black and red wired, it is likely 240V.
Finally, if you live in a very old home built before 1960, the chances are high that you have knob-and-tube wiring which can deliver only 30 amps. This wiring is prone to electrical overload because it's old and wasn't intended for modern appliances that consume lots of electricity.
Once you know the currency voltage, use the following formula to calculate the load on a circuit in watts (power) or amps (current).
P (power) = I (the current) x V (voltage).
However, since circuit breakers are usually rated in amps, it's best to calculate load in amps, which is current.
Calculating Electrical Load of One Appliance
Appliances work by drawing power from the circuit. So the amount of current used is the load on the circuit.
Yet, most appliances just state the power draw in watts. The same is for light bulbs. To derive a number comparable to the current rating of your breaker, use this formula: P: IV. To get a figure for the current, you have to use the definition of current: I=P/V.
For example, let's take your hairdryer, which says that it draws 800 watts. When plugged into a 120V outlet, its electrical load on the circuit is 800/120 = 6.6 amps of current.
Calculating Circuit Load Of All Living Spaces
To calculate the total circuit load, you need to add the loads of all individual light fixtures and appliances you use daily. According to NEC, you should include only living spaces, excluding open porches, garages, or unfinished spaces.
Suppose you use five light fixtures and three outlets. All the light is on, and you are also operating a 1,000-watt coffee machine from one of the sockets and a 1,500W -watt electric heater from the other.
Five 60-watt bulbs, drawing 0.5 amps of current, translate into 2.5 amps. The total electrical load with a coffee machine is now 10.8 amps (1000/120+2.5). Now plug in an electric heater, which draws 12.5 amps. If your current circuit breaker is 15 or 20 amps, it will trip immediately to prevent fire because the total electrical load of appliances and light fixtures is 23.3 amps, which is a deviation from the rating of your circuit breaker.
Avoiding Circuit Breaker Overloads
NEC requires that circuit boxes use only 80% of their rating. A breaker for the 120-volt circuit may have ratings of 10, 15, and 20 amps. So a 15-amp breaker load should be 12 amps. When exceeding that amount, it will start tripping, signaling current overload.
If a tripping breaker or flickering lights are frequent issues in your house, you should use fewer appliances simultaneously to avoid electrical overload. Or, you may consider upgrading your existing electrical wiring to increase its capacity.
Call RG Electric To Upgrade Electrical Load
A competent electrical installation can improve the efficiency and value of your home. When you select our Los Angeles electricians to do the electrical upgrade, you can have peace of mind that they have good industry knowledge and experience to enhance your electrical panel.
Don't think twice about calling us at (323) 5215131