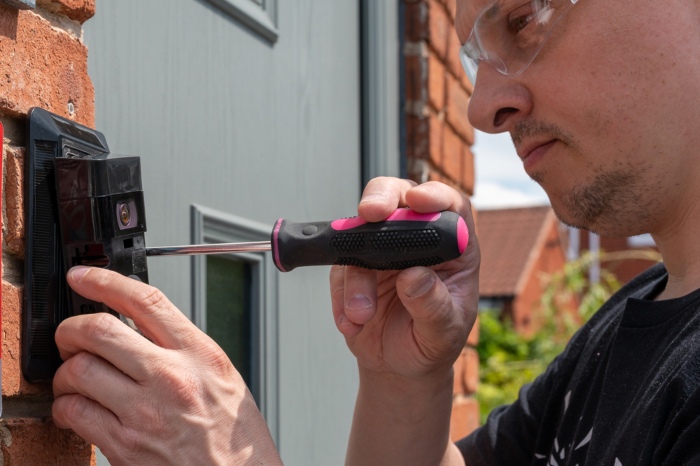 How To Install Ring Doorbell? 5 Simple Steps & Tips
These days, the Ring doorbell is an essential part of home security, and for a good reason. One of the first smart doorbells to hit the market was the Ring, which transformed doorbells into standalone security systems. As a result, Ring doorbells for home security are growing increasingly popular.
Perhaps not surprisingly, there are many kinds of Ring doorbells, and they all function differently. For example, even if the visitor doesn't ring the doorbell, the doorbell will light up when it detects someone or something else at your front door and let you keep track of any suspicious activity.
What's more, you can always use the doorbell's camera to observe what's happening, and if necessary, you can even use the microphone to communicate.
Are you wondering whether you should install a ring doorbell at your house? Then you are in the right place! In this small guide, we'll explain the process of installing a ring doorbell step-by-step. In the end, you'll probably realize that ring bell installation is a very simple process and doesn't take a long time.
How to Install a Ring Doorbell?
Now let's take a look at the Ring doorbell installation instructions. Just follow these 5 simple steps, and you'll see that Ring doorbell installation is possible without hiring an electrician.
Nevertheless, if you perceive the process as complicated, you can contact our team any time and ask questions or get help from professional electricians.
1: Remove Existing Doorbell
Start by turning off the electricity to your doorbell. Take out your current doorbell button and unplug the cables. Before starting the installation of the new doorbell, turn off the electricity to the installation area at your circuit breaker. Handle electrical wires carefully to avoid danger.
Installation by a licensed electrician could be necessary since there are some electrical threats. So keep in mind that before conducting any electrical work, you should check your local regulations and building standards.
2: Mount the Bracket
Insert the provided leveling tool into the mounting bracket. You can reach the power cables after you've installed the mounting bracket. If installing on a stone surface, level the mounting bracket and use it as a template to mark pilot holes.
3: Connecting Wires
The next step of the Ring doorbell wired installation is to connect the wires. For this, you should know that wires are attached to the mounting bracket using screws. Keep in mind that it doesn't matter how the wires are connected; what matters is that they don't make contact with one another.
4: Place Ring Doorbell on Mounting Bracket
After connecting the wires, you can continue by placing your Ring doorbell on the mounting bracket. Set up your Ring video doorbell by aligning the tabs from the mounting bracket with the slots on the rear. But use some force if necessary; do not be scared.
5: Security Screws
And finally, you're going to secure the screws. Use the security screwdriver that comes with it in order to secure the two security screws to the bottom of the Ring Video Doorbell.
And that's it – your Ring doorbell is already installed and ready to help you ensure the security and safety of your house!
Installing Video Doorbell
Not only is the regular Ring doorbell, but one of the simplest smart home improvements to complete is the installation of a Ring video doorbell. A Ring video doorbell consists of a motion-activated camera, microphone, and speaker that can send notifications to your smartphone and smart speakers to let you know when someone is at your door so you can see and speak to them.
Depending on which type you pick and whether you go for battery-powered or wired, installing a Ring video doorbell on your front or back door should only take more or less 30 minutes. Using a wired doorbell if you already have doorbell wiring installed may be preferable.
Bottom Line
As you can see, installing a doorbell by yourself isn't very difficult. Besides, the majority of Ring doorbells include everything you need to install them, including a screwdriver, screws, wall anchors, wire extenders, and wire nuts in the package.
So, all you need to do is to get familiar with these simple steps and use your skills and imagination to succeed. Still, if you doubt you can install a doorbell yourself, consider hiring an expert electrician at RG Electric. The greatest solution for you could be our professional assistance!