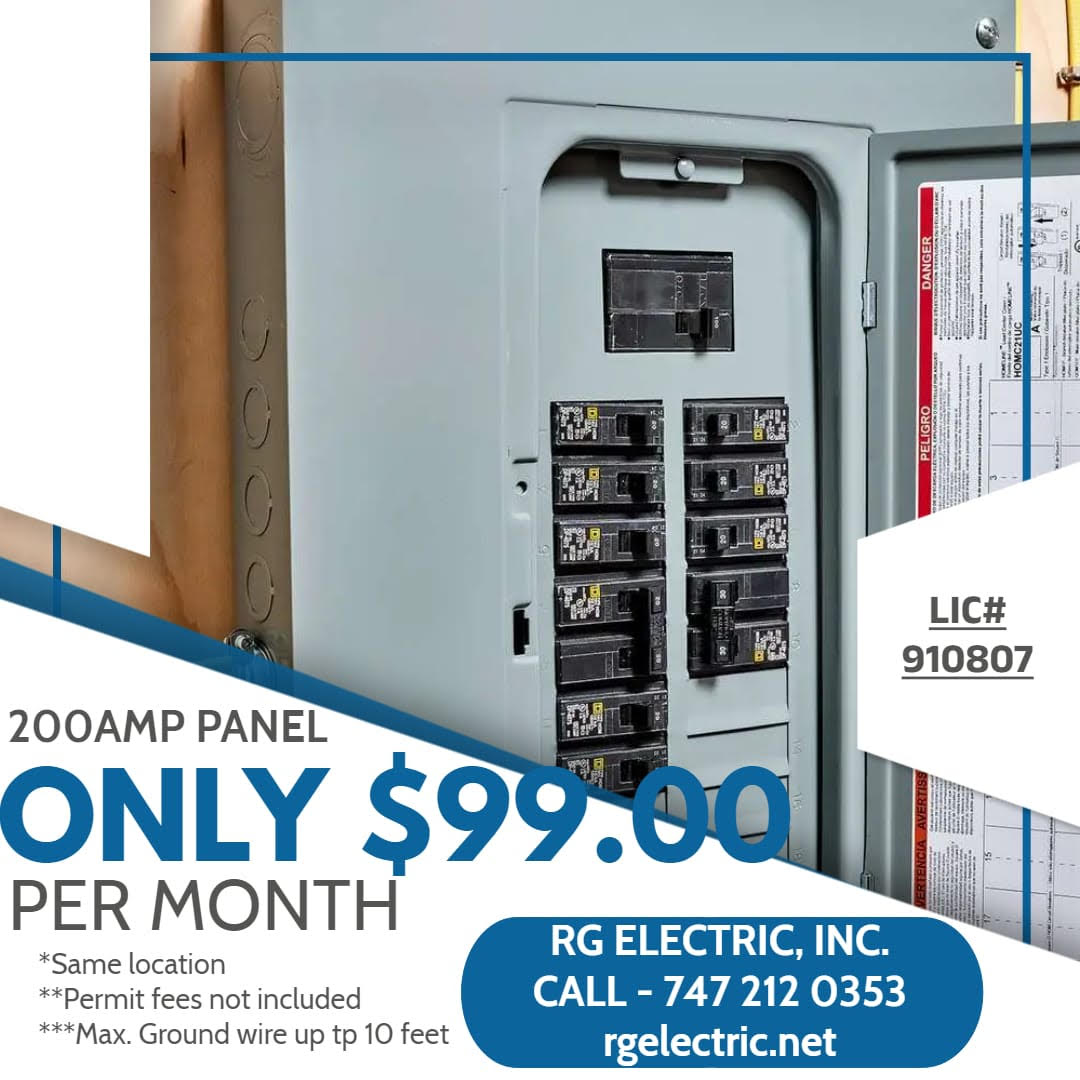 Does Your House Need a 200-AMP Panel? All You Need to Know
Do you realize how much the safety of your house depends on up-to-date service panels?
The truth is that the performance of your appliances and your general safety are significantly affected by the state of your electrical panel. Different appliances like refrigerators, air conditioners, and others can consume your energy and damage weak electrical panels. That's why RG Electric advises upgrading it to a 200 AMP panel.
Based on current standards, 200-AMP panel service is crucial to any home's safety. But what is a 200-AMP panel at all and how does it work? Let's discuss everything you need to know about these circuit breakers and why they can be useful for your home.
Why Do You Need a 200AMP Panel?
Back in those times when houses were not equipped with electric appliances, smaller electric panels and their lack of wiring were common. However, things have drastically changed in the electric industry, and as a result, multiple computers, TVs, and heating systems are now important parts of our homes.
Nowadays, people have a wide range of electric equipment in their kitchens, including refrigerators, freezers, dishwashers, and other appliances. We can hardly imagine our daily lives without washing machines and dryers performing their daily duties or mobile gadgets recharging.
All of this means that everyone needs to have an electrical panel that is strong enough to safely perform all of these duties. And 200-amp service is exactly what you need in this case. Why? Because it can allow you to power large electrical devices safely and avoid harmful consequences.
Capacity Of 200 AMP Panels
The first important thing is the capacity. The capacity of 200 AMP panels is bigger than that of 100 AMP panels, so households with larger panels will draw more power from the power grid.
This means the 200 AMP electric panel will operate better and more consistently meet the power demand than one with less capacity, regardless of whether high-power devices are installed or the home uses numerous smaller appliances.
Safety in Circuits
A 200 AMP panel contains more circuits than a 100 AMP panel because of its larger size. It is a function that must be present in homes with high electricity usage. More overlords, short circuits, and even fires are possible with fewer circuits. The appliance and the entire family will be safer as a result of a larger electrical panel.
When Should I Upgrade My Electrical Panel?
It is well recognized that an older electrical system is more likely to develop issues. Even though normal home wiring has the potential to function for 50 years, it will need constant monitoring and control, so it's always better to update them on time.
Other important signs that you should update your service panel as soon as possible can be the following:
You notice that your appliances aren't operating to their maximum potential
Flickering lights
Outlets are worn out or damaged
The panel is warmed strangely or has corrosion
You intend to renovate your house
Can I Install a 200 AMP Panel Myself?
Installing an electric panel on your own could be pretty dangerous. After all, 200 amps is a lot of electricity! That's why we recommend booking a consultation with professionals. For this, you can just speak with RG Electric specialists about the process of installation of a 200-amp panel and they'll explain all the factors that require your consideration.
Some of these factors might be major electrical wiring work, utility company coordination, and obtaining a permit to ensure your house complies with building requirements.
In either case, your local building inspector will need to examine the electrical work in order to issue a certificate of occupancy, which will allow the utility provider to switch on the electrical service.
Things You Should Know Before Upgrading to 200-AMP
It takes a lot of labor to upgrade to a 200-amp system or service, and as was already indicated, you'll need to deal with an electrician to secure permits. The underground service and meter base installation must be coordinated by the electrician and the utility company.
To sum up, the following is the entire procedure you must follow while updating an electrical panel:
You should assess the electrical requirements and capacities of your home.
Choose the panel that is best for your house.
Install the panel, the circuit breakers, and other equipment with a professional's assistance.
Verify that each circuit is properly connected.
Before completely documenting the system, conduct comprehensive testing.
Take Advantage of RG Electric's Panel Renewal Services
If you've decided to update your electric panel and are looking for professional electricians for 200-amp service, RG Electric's certified specialists are there to replace your electrical panels and perform rewiring, repairs, and the installation of electrical components and appliances.
We are renowned for our same-day service, round-the-clock emergency availability, and a 100% satisfaction guarantee. Our staff of qualified electricians is well-versed in all areas of residential installations and repairs. We are experts at providing the highest level of detail work for both residential and commercial projects.
So, don't hesitate to contact us right away if you're ready to upgrade your electric system to a 200 amp panel.