Electrical Panel Upgrades in Los Angeles
We have earned the reputation of being the best electrical panel services in Los Angeles. Our well-abled team comprises certified electricians with over 10 years of experience who will handle your electrical panels with care and with your safety in mind. We operate a wide range of electrical panel services, including;
electrical panel installation
electrical panel repair
electrical panel upgrade
We provide services for homeowners and organizations in and around the Los Angeles Metro area. We go above and beyond for our customers and offer a 100% satisfaction guarantee on all your projects.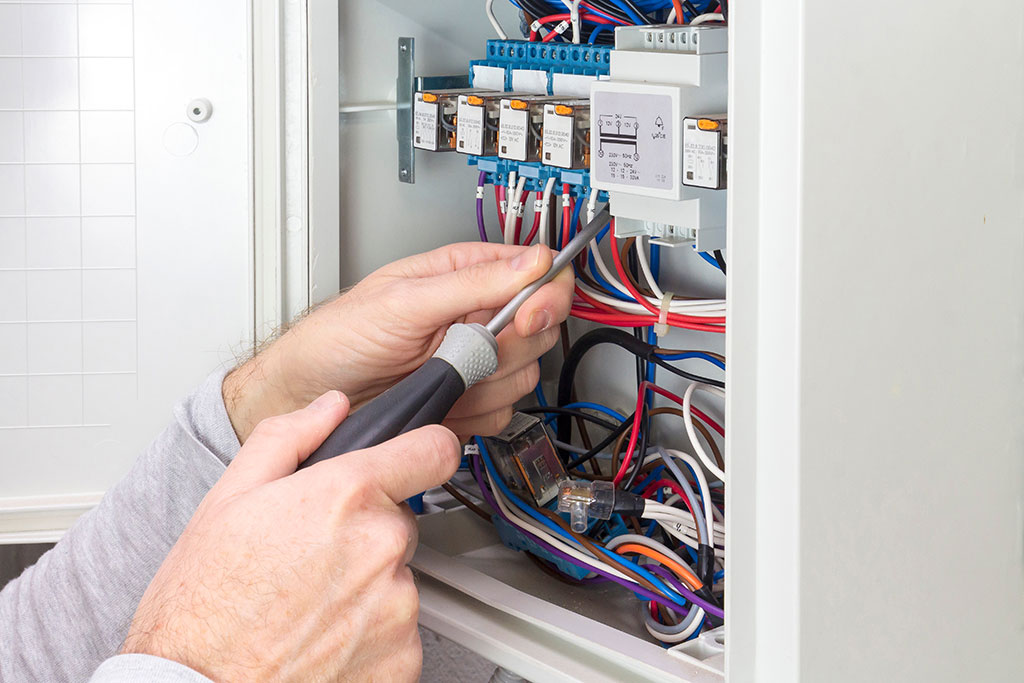 Our Team Can Handle Your Electric Panel Installation
Your electrical panel is the central electrical unit in your home. Everything electrical in your home is connected to the panel, so you want to make sure that your panels function efficiently. Panels allow the even distribution of electricity throughout your house.

A malfunctioning panel can cause fire outbreaks. In addition, these panels can generate dangerous levels of current and pose the risk of electrocution to you and your family.
When dealing with a malfunctioning or damaged panel, it can be pretty hard to identify the source of the problem. So here is where you need our competent electricians to determine the extent of damages and see if your panel needs to be repaired or replaced.
Call Us (323) 5215131
Replace A Circuit Breaker
The only option in fixing a damaged circuit breaker problem is replacing the breaker because you cannot repair a faulty breaker. Alert an electrician immediately once you notice burn marks or burn smells from your breaker.

It is always advisable to allow a qualified electrician to replace your circuit breakers. Because improper installation can lead to electrocutions, including loss of property due to fire outbreaks. You can trust us to leave no stone unturned when it comes to installing your new circuit breaker. 
Before Getting An Electric Panel Repair
The electrical panel can be likened to the Central Processing Unit(CPU) of the computer. The CPU is the brain of the computer and controls all its functions. Likewise, the electrical panel regulates multiple functions in your home.

Unfortunately, you can't handle a malfunctioning electric panel on your own. You will need the help of a licensed electrician for this problem. 
Luckily, RG Electric's team is more than qualified to examine your electrical panel and fix the problem.
When Do You Need To Repair Your Electric Panel
Breakers become incredibly hot
Burn marks and smells from the panel
Weird noises like hissing from your breaker
The panel is old and outdated
Electric Panel Maintenance
After installation, your panel will still need to undergo regular checks and maintenance to increase its longevity. RG Electric offers routine maintenance services for your electric panel. We will inspect your panel for signs of rust and wear and tear and check all necessary connections.

In addition, our professional team of electricians will conduct a thermal check to detect high temperatures, which could indicate an electrical problem.
Electrical Panel Upgrade
Electrical panel upgrades are inevitable. As your electrical appliances increase, the circuit may not handle the high demand resulting in circuit overloads. For houses older than 10 years, we recommend getting an electric panel upgrade.

On the other hand, your 15-year-old electrical system may not keep with the energy demands of modern appliances. Upon inspection, our team will offer various recommendations on the upgrade solution that will suit your needs. 
Our electric system upgrades include:
Wiring & Cabling
Lighting fixtures
Electrical panels
Circuitry
Outdoor electrical panel installation
What Other Area Do We Give Service
Our expertise extends to areas like;
Smoke Detectors
Circuit Breakers
Wire Repair
Electrical Outlet Repair
Outlet Repair
Call Us (323) 5215131