Outdoor Lighting Installation Services in Los Angeles
We believe proper lighting should not only be limited to the interior of your home. The outside of your home or office also needs sound lighting installation. RG Electric has more than earned its reputation as the best electrical service company in Los Angeles.
We are a family-owned and operated electrician business and have served Los Angeles residents for over a decade. Our goal is to offer the best quality service and expertise to our residential and commercial customers. We have highly trained service technicians to attend to all your electrical products and service needs.
Lighting Installers
Our electricians are highly skilled in outdoor lighting installation. Our lighting installers understand the transformative power of a well-positioned lighting fixture on your landscape. Our team of experts will walk you through the design process and install the perfect outdoor lighting for your space. We know our stuff when it comes to experience in garden lighting and installation, outdoor landscaping, etc. Our team offers the best outdoor lighting service available anywhere in Los Angeles. Give us a call!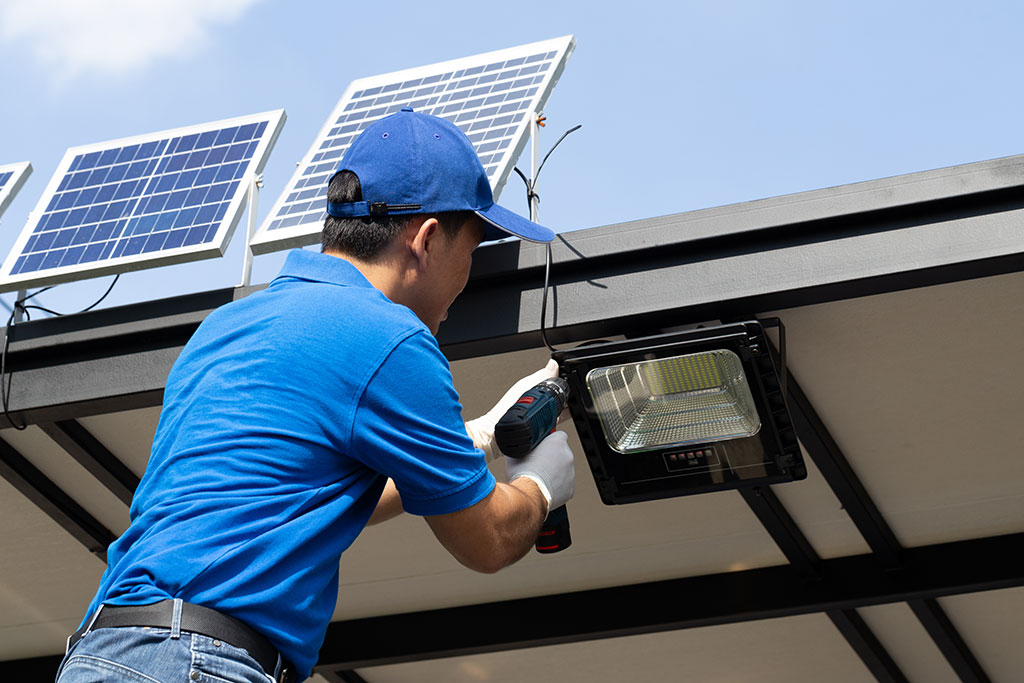 Call Us (323) 5215131
Installing Outdoor Lighting
You should not look anywhere else if you want your outdoor lighting professionally done and just the way you like it. We collaborate with you to create a design plan for your outdoor lighting scheme. Our team makes the necessary additions and deductions to current lighting fixtures on your building and yard to create a lighting scheme that complements and enhances your property. We install a collection of lighting fixtures and features available like recessed lighting, motion-sensing lights, remote-controlled systems, solar options, and a host of custom features for homes and corporations alike.
We offer customized solutions, including landscape lighting repair services for any property at a reasonable price. Our outdoor lighting services aim to please our clients who desire a unique outdoor living space.
Security Lighting
Lighting does not only beautify your outdoor space. It is effective in
deterring wildlife from entering your property and can also protect your home from intruders. We are experts in security lighting. Our licensed and trained electricians will install security lights, so both you and your family feel safe at night. We position spotlights or floodlights in strategic places to scare off intruders. We can install security cameras with a lighting system to detect suspicious activity and robbery attempts and alert the police immediately.
Landscape Lighting
Great landscape lighting can transform your space and make you not want to go indoors even when it is late. We are here to help you find creative ways to utilize your outdoor space through landscape fixtures and garden lighting. For example, do you want to create a space for family barbecues and hangouts? Or you want to light dark areas with spots and floodlights. Our experts will improve your outdoor space with landscape and gardening lighting safely to suit your taste and lifestyle. For example, suppose you have an outdoor kitchen. In that case, we can install outdoor lighting fixtures for visibility so you can cook at night.
Types of Landscape Lighting We Install Include;
Pathways
Deck lights
Spotlights
Pool lights
Ground lights
Motion detection lighting
Floodlights
Factors to Consider When Installing Security Lights
The Right Type Of Security Light
There are many security light options to choose from but consider the type of property you have. If you have a large property, we recommend purchasing LED floodlights. For more minor pathways and porches, decorative security lights like street lamps will be efficient.
Security Light Location
Security lights need to be installed on all entrances and exits of your property, for example, balconies, patios, etc. Security lights like motion sensor lights should be placed at around 6 to 10 feet (1.8 to 3 meters) above the ground and face downwards.
Call Us (323) 5215131