Circuit Breaker Repair in Los Angeles, CA
Install, Update & Modernize to Keep Your Home Safe
If you're also looking for efficient circuit breaker services in LA, you must ensure you work with a qualified electric company. Working with RG Electric professionals guarantees that your circuit breakers are properly fixed, installed, or maintained.
Our circuit breaker service specialists follow the strictest industry guidelines and adhere to all local and national regulations.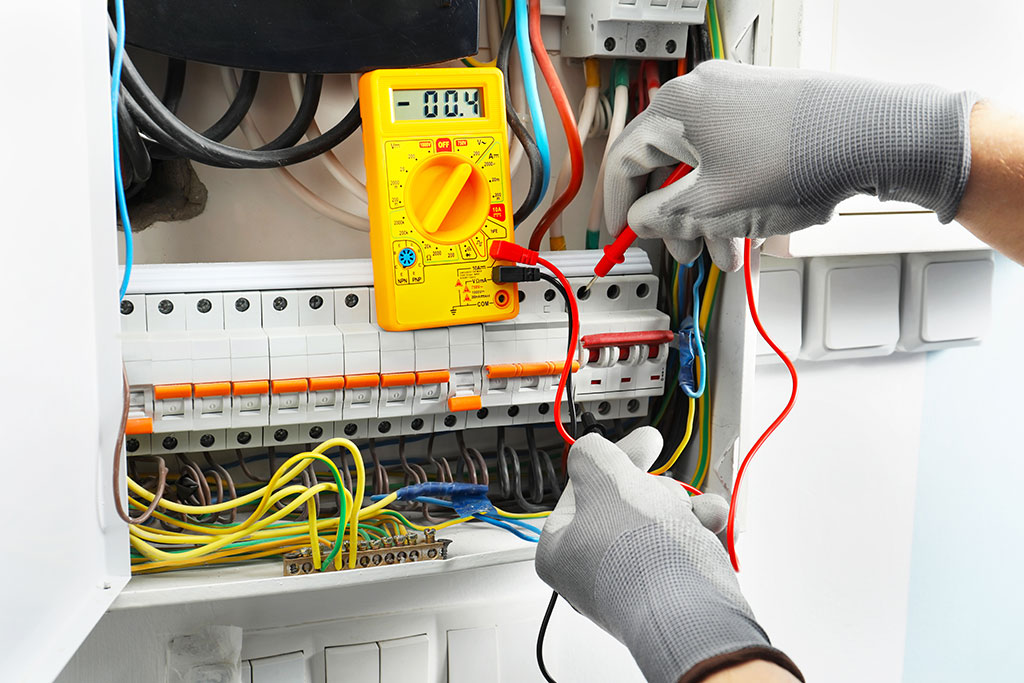 Why Should You Update An Old Circuit Breaker?
Old circuit breakers must be replaced or repaired if you want to keep your house secure and reliable, especially if you have a lot of power needs. Overloaded circuit breakers cause the majority of electrical issues resulting from structure fires.
It's critical to keep in mind that circuit breakers in older homes were not intended to support the simultaneous use of power, but that's the reality of modern life. That's why we're sure it's the right time to think about replacing your circuit breaker if you frequently find yourself disconnecting one gadget to plug in another.
When Do You Need to Replace a Circuit Breaker?
Circuit overloads currently put a lot of strain on circuit breakers. To avoid damage or, worse yet, the possibility of a fire developing, you should replace outdated circuit breakers as soon as possible. Look out for those signs to know if your circuit breaker needs to be replaced:
Your circuit breaker is old
There is a burning smell
A panel is often hot when you touch it
You notice a burned area or black spot on the panel
A breaker trips while plugging in a specific appliance
Our qualified electricians will go over your alternatives with you and assist you in making the best decision. It takes a trained and qualified person to replace a faulty circuit breaker. The team of RC Electric has developed a reputation for managing electrical parts like breakers. This means that you can trust us and let us install, update, or modernize circuit breakers at your home.
Call Us (323) 5215131
Services for Home at RG Electric
While some people just switch their circuit breakers on and off to solve this issue, this is only a temporary fix. Call in professionals at RG Electric with experience installing, upgrading, or maintaining a circuit breaker panel box instead of adopting this temporary fix.
Installation
If you're planning to install circuit breakers in your house, keep in mind that it is recommended to engage a specialist. When installing a circuit breaker, we suggest going with a contemporary design.
An improved circuit breaker can handle the ever-growing amount of electrical technology we use in our homes, offices, and companies. Our valued clients receive a customized installation service from RG Electric.
Repair & Maintenance
We provide after-sales or installation services to guarantee your satisfaction after installing circuit breakers in your house or place of business.
RG Electric's maintenance and repair services include:
Enhancing the life cycle performance of the circuit breaker.
Maintenance in advance
Condition-based upkeep
Repair and troubleshooting
Management of the dying
Upgrade & Modernization
With its technological know-how, RG Electric can supply specifically engineered solutions. Renovation and overhaul are used to lengthen the useful life of equipment, while modernization is used to address aging equipment obsolescence.
Our upgrade & modernization service includes:
Conducting the circuit breaker overhaul.
Analyzing and replacing the indicated parts
Utilizing cutting-edge technology
Reducing intervention time
Installing more poles and bays
Secondary Injection Test
Do you know why secondary injection test trip units are critical during a breaker service? It involves attaching a secondary injection test set to a circuit breaker trip unit and injecting a simulated current to demonstrate that it operates at various voltage levels.
We may check if the trip unit, its settings or factory parameters, and related components are functioning properly by attaching one of our many various manufacturer's secondary injection test sets. As the circuit breaker is frequently charged, closed, and opened, it is also a crucial test for a circuit breaker's mechanical service and inspection.
How Much Does it Cost to Replace?
The average cost to replace outdated and damaged circuit breakers can range from $500 for a straightforward project to $2000 or more, depending on the work's complexity. You can get a free price quote for your project from our staff.
However, you shouldn't anticipate paying as much as replacing an entire panel if you only want to replace the circuit breaker switch. Costs for replacing a circuit breaker switch range from $100 to $200.
Considering this, RG Electric offers reasonable prices compared to other companies and ensures the best possible service.
RG Electric will Keep Your Home Safe & Secure!
RG Electric stands apart from other electricians because we are committed to leaving your home safer than when we arrived. Because we are expert problem-solvers and troubleshooters, we will take action to remedy any electrical system dangers we find in your home.
This guarantees that your electrical system will be entirely secure, trustworthy, and ready for constant usage when we leave. All of our technicians are courteous and helpful and have undergone background checks and tests.
Don't hesitate to contact us as soon as you feel the need to change your circuit breaker.
Call Us (323) 5215131