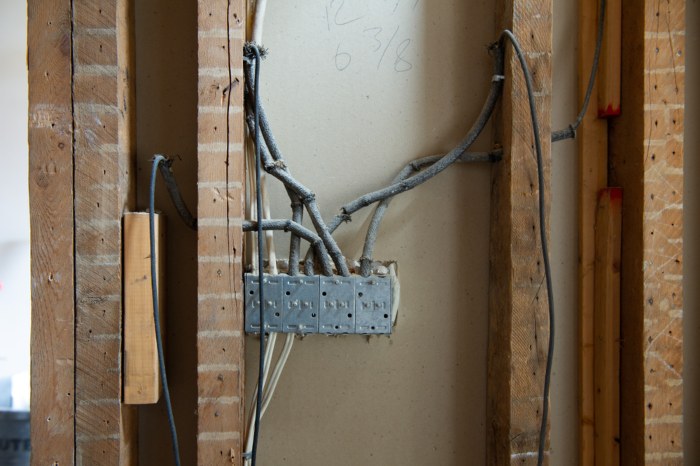 Knob and Tube Wiring Problems
Many homes in the USA built between 1800 to 1940s have knob and tube wiring. And if you live in one of those buildings, it means that your electrical system is ungrounded, which isn't good. How can you know if you live in a house with k&t wiring?
What is Knob and Tube Wiring?
Knob and tube wiring is often found in attics and basements. It features wiring insulated with rubber that runs through ceramic and porcelain knobs and tubes. This is an unsafe system that has only hot and neutral wires. Without a third ground fire, people are always in danger of fire hazards and electrocution.
Let's look at the most common knob and tube wiring problems.
Knob and Tube Wiring Problems
Any of the problems mentioned below can lead to overheating, short circuits, and shock and fire.
There's No Ground Wire
Unlike modern wiring, k&t has no ground wire. It means that your wall outlets can't accommodate grounded electrical appliances with three-pronged plugs. In case of fault, neither you nor your electrical devices are protected.
Black and White Wires Run Separately
Two wires in knob and tube wiring run separately, whereas three wires (black, white, and green) run through one cable in a new one. They are more likely to stretch and sag over time creating dangerous situations.
K&T Wiring Has Rubber Insulation
The so-called "open" rubber insulation wears out quicker, and the ceramic tubes and knobs break. Besides, it is prohibited to envelop them with household insulation because it should be able to dissipate the heat in free air that accumulates due to the electrical current flowing through it.
Damaged Wiring in Attic
When you have knob and tube wiring in an attic, it is subject to damage from people walking around. It can also be damaged by animals that get inside the attic and chew on it. And with degraded insulation exposed to high temperatures in summer, it breaks down. Then conductors get bared and exposed. We've seen that many times. And the exposed conductor is always a shock hazard and certainly, a fire hazard.
Installation Incompatibility
So you have k&t wiring, and you want to install a new light fixture. The problem is that modern light fixtures are graded with 90oC, while knob and tube wiring is graded 60 degrees. When the old wire gets run into the new fixture, the insulation gets hot, and it will fall off. We've also seen that many times. So if you have old wiring and your lights are flickering all the time, you know where the shoe pinches.
In a nutshell, this old-fashioned k&t wiring is especially fraught with dangers when it has been:
in use for a long time;
modified improperly;
covered with building insulation.
What Most People Don't Know About K&T Wiring
The safest way to install a new light fixture in the attic with knob and tube wiring is to have a junction box in the attic. The electrician takes k&t, brings it to the junction box, and then takes a newer cable, like Romex, to run that unto the fixture. That's the proper way to do this, but many people don't know about it.
Another thing would be open splices for knob and tube wiring. If it has all the original stuff, then it's totally fine. Wires should be wrapped around each other several times and then soldered, and then splices wrapped with the electrical tape. This should happen inside the junction box.
In addition:
K&T wiring can't be used in kitchens, bathrooms, laundry rooms, and outdoors;
Don't plug in several high-power appliances at a time to avoid electrical overload. This old system runs only on a 60 amp service;
K&T and Problems with Insuring Your House
Most insurance companies refuse to insure houses with knob and tube wiring because of the high risk of fire. So if you want to get your house insured, you will have to either rewire your home or update it at some level.
How a Qualified Electrician Can Help
If you can't afford to rewire the house, you should call qualified electricians to come to your place and inspect it for safety. Following California Electrical Code, they'll:
Replace cracked wiring or remedy any other issues;
Inspect your electrical system and certify that the system is safe;
File the certification with the local building apartment;
Post a warning sign in areas where insulation covers the wiring;
Make sure insulation is non-conductive;
Contact RG Electric in Los Angeles
Now you understand that the knob and tube wiring is really old stuff, creating unsafe conditions for you and your family. You should call a professional electrician in Los Angeles to identify potential risks and decide how to change your electrical system. K&T wiring can be dangerous and should be assessed to ensure its stability. RG Electric technicians have the experience to help you out for an affordable price. Contact us today!