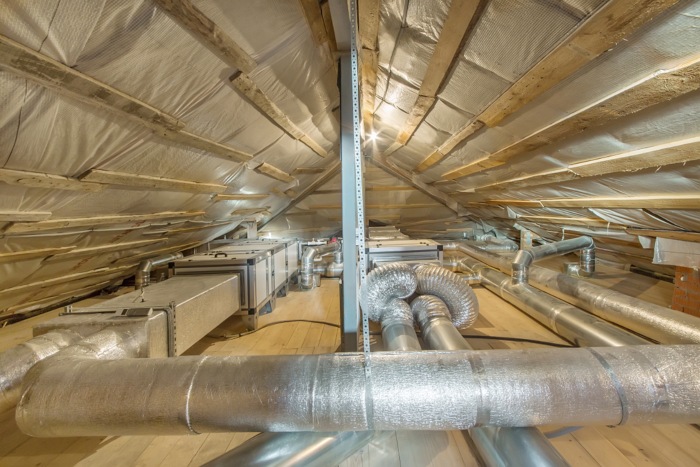 A Whole House Fan – Save On Your Cooling Bill
When summer hits, fans help to cool our houses. Whether it's a ceiling fan, tower, or wall-mounted unit, they provide cost-efficient solutions during hot seasons. And what about whole house fans? Do they really work? Is it worth installing the one in your house?
RG Electric will discuss these topics in this blog post so you can decide whether a whole house fan is what your need in your home.
Difference Between a Whole House Fan and a Ceiling Fan
Typical electric fans, including ceiling fans, slice the air with blades and push it in a specific direction depending on the fan type. As a result, the air spreads out in the entire room. To put it simply, these fans only move the air around. They don't cool in reality, although you feel a cooling effect due to continuous circulation.
A whole house fan uses a different approach. The temperature outside should be lower than in your house to cool your house. It will pull cool air from outside into the house via the open doors and windows to cool it and remove the hot air out through the attic ventilation.
Can a Whole House Fan Replace an AC?
August in California can be very hot, reaching 100 degrees and temperatures during evenings and nights remain quite high. Using a whole house fan doesn't make sense during such a period because we've already mentioned that it operates using cooler air outside the house. This means AC is great for bringing a breeze during a heat wave.
The whole house fan is best used with an air conditioning system. For example, you can use it early in the morning when temperatures are around 63 or 64 degrees to bring in the fresh air. As the temperatures rise, you may turn to AC. Instead of running AC all day, employing the whole house fan will save on your cooling bill.
On the other hand, you can consider switching entirely to a whole house fan if you live in a region with a moderate climate.
Ventilate Your Attic and Walls
One of the benefits of a whole house fan is it can effectively ventilate your rooms, especially the attic. You may think, why bother myself with switching to a whole house fan early in the morning when my home is already cool?
Although you may feel comfortable during the early hours, the truth is that your attic and walls still retain high temperatures, radiating into the house and heating the rooms. You can cool down the attic and walls when using the whole house fan.
Other Benefits
Breeze circulating in the house every 3-4 minutes, reducing the temperature by 5-10 degrees;
Energy-efficient solution and reduced AC costs.
It cools and refreshes at the same time.
Keeps your walls and attic cooler.
A whole house used in combination with AC prolongs the AC's lifespan.
Promotes green energy and makes the earth healthier by reducing energy bills.
The Best Whole House Fans On the Market
Here are the top 5 whole house fans found on Amazon.
QC CL-3100 Whole House Fan
This fan will accommodate your needs if you are looking for a less powerful model that can cover 1,570 square feet. It comes with remote control and detailed installation instructions.
QA-Deluxe 5500 Whole House Fan
The fan is quite powerful, offering more control and customization for a two-story home. You can adjust temperatures and choose between two fan speeds. It's more expensive than the first fan on our list but is much easier to install.
AIRTITAN T7 Ventilation Fan
The price of the fan doesn't exceed $100 and works for small spaces. As evident from its price, it doesn't have a remote control. But it does have an IP44 rating that protects the unit from water splashes.
Other perks are an option to set times, alarms, 10-speed settings, and the preferable temperature.
QC CL-7000 Whole House Fan
The QC CL-7000 fan provides maximum airflow. It isn't cheap but a good investment if you want electricity savings for a large house.
HV1000 Whole House Fan
This ductless fan is designed to shut down automatically when the fan isn't in use. As a result, fresh air remains more in your home.
The fan can be mounted either on the wall or the attic floor.
Can I DIY a Whole House Fan?
Smaller whole house fans can be installed independently, while those on the larger side need a professional. Plus, it's about wiring, so it's better to have an electrical contractor do proper wiring and add ventilation that complies with the US Department of Energy.
Contact our Los Angeles electricians if you need help installing ceiling or whole house fans.
Frequently Asked Questions
How long does it take for a whole house fan to cool a home?
It depends on the size of the fan. Larger units like QC CL-7000 will cool a home faster than small ones, approximately within an hour. Smaller spaces will cool quicker as well.
How many windows should I open when using a whole house fan?
Open all the windows If you want to cool the entire house. Otherwise, open the windows in the rooms you want to cool.
Can you use a whole house fan all day?
You can use the fan all day or night as long as the temperature outside is lower than inside your home.