Ceiling Fan Installation & Repair Services
Are you looking for a reliable and competent electrical service to assist you with ceiling fan installation and repairs in your homes and offices? Well, you are in the right place. Here at RG Electricals, we give our all to ensure that our customers get the best service possible. It is our job to fix all that is broken with your electrical system and appliances. We have electricians with over ten years of experience who will be right at your doorstep with a single call. In addition, we provide excellent ceiling fan services at reasonable prices with no hidden costs. Our ceiling fan services include exhaust fans installation and repair.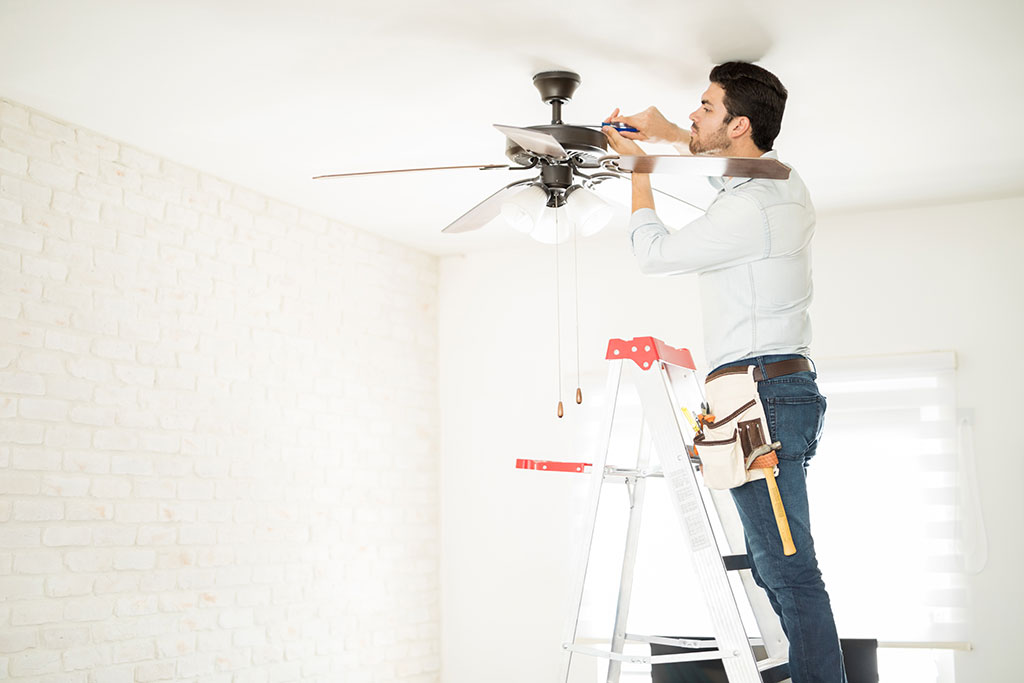 Installing a Ceiling Fan
Ceiling fans are essential for enhancing ventilation and serving as lighting fixtures, and adding style to it. Ceiling fans are wonderful, but an expert must appropriately install them. Here at RG Electric, we provide electricians with expertise in installing a ceiling fan and ensure your ceiling fans' proper functioning and efficiency. Over the years, with our expert services, we have earned the bragging rights of providing the best ceiling fan installation services in Los Angeles with your safety in mind. Our electricians are thorough with ceiling fan wiring, flush mount your fan, ensuring fan blades are well-proportioned for smooth operation.
Ceiling Fan Repairs
At RG Electricals, we also provide repair services. It's possible that your ceiling fan has stopped working or isn't turning on because it isn't receiving power. The circuit breaker may have tripped or been turned off. In addition, internal issues, such as shot ball bearings or an overheated motor, could potentially cause your ceiling fan to cease working. While replacing a ceiling fan is always an option, repairing a ceiling fan is a much more affordable and economical alternative to replacing it entirely. If you still like your fan but aren't performing correctly, our licensed electricians will fix it. We will handle your ceiling fan repairs with care and have it working in no time.
Replacing a ceiling fan
Is your ceiling fan damaged beyond repair? Are you looking to replace that rusty old fan? Do not worry; we've got you covered. RG Electric provides prompt replacement, repair, and maintenance. You can rely on us to replace your ceiling fan. Remember: the most important reason to replace your ceiling fan is for safety reasons! A ceiling fan that is too old or is mounted/wired wrongly might cause injury to you and your family and friends. Also, as a fan gets older, it may start to emit noises like buzzing, wobbling, and squeaking. These may all be signs that you need to replace your ceiling fan.
Ceiling fan installation costs
The average cost of ceiling fan installation in Los Angeles is $246, with prices ranging from $144 to $352. Installations difficult to obtain or intricate could cost up to $600—labor costs between $100 and $250. If you are installing several fans simultaneously, the service company can lower the cost per fan. RG Electric gives you a free estimate on fan installation projects, and we are transparent in our pricing and services.