Ceiling Fan Installation & Repair Services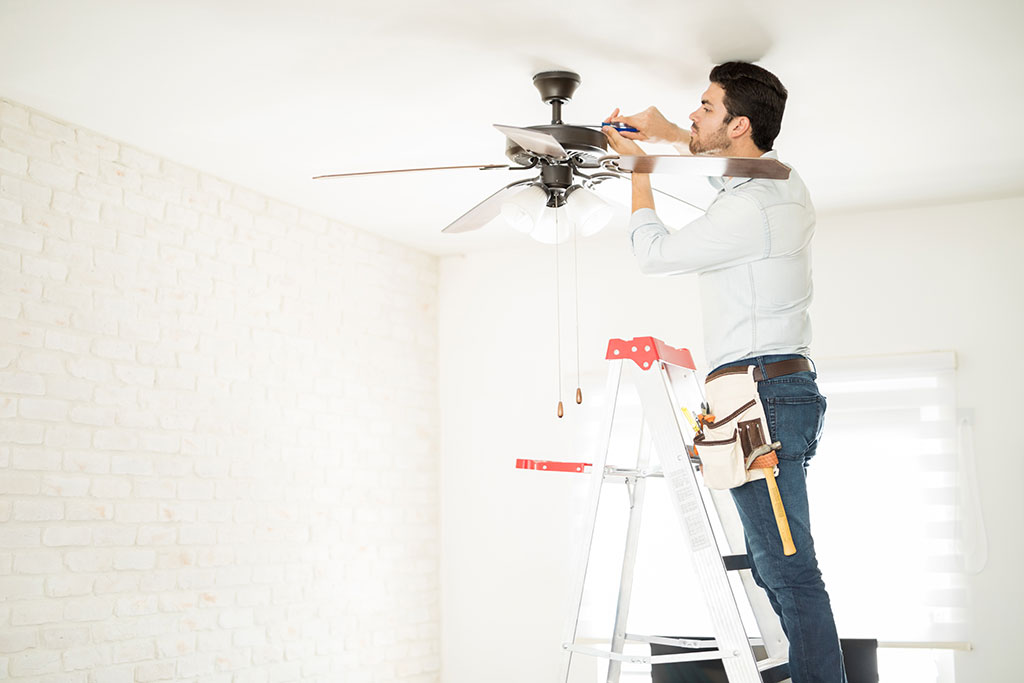 Are you bothered by air circulation problems at your house? Then installing a ceiling fan might not be a bad idea.
The ceiling fan is constructed to draw warm air upward. The fan's blades slice through the heated air as it rises and forces it downward. The air in the room starts to circulate and create an enjoyable atmosphere in your house!
A ceiling fan installation is a difficult task requiring a skilled electrician's assistance since doing it on your own may not end well. But if you live in Los Angeles, RG Electric will do all its power to provide an excellent installation service. It is our responsibility to repair any issues with your appliances and electrical system.
Benefits of Installing a Ceiling Fan in Your House
It's difficult to modify a house's design, so some research may help you decide what to change. Ceiling fans continue to play a significant part in the majority of residential and commercial buildings. Even though they are considered old-fashioned, we can't close our eyes to all the benefits they have.
The following are some advantages of installing a ceiling fan in your house:
Ceiling Fan Effectively Circulates Air
Due to its design, the fan can easily and efficiently move the air throughout the space. Given these capabilities, ceiling fans continue to be the best form of fan for bigger spaces that demand constant, strong air circulation.
It Improves The Quality of Air
The constant circulation of air enhances the whole area and the quality of the air we breathe. Through all these circulation processes, hot air is pushed outside, and the cooler air continues to exist and move in all directions. The cooling provided by ceiling fans creates comfort in the areas in which they are installed, even if it may not be as cold as provided by air conditioners.
Lightning Function
You might already know that most ceiling fans come with lights. Today, so many amazing, attractive, and unique designs are available that deciding which one to use is very difficult. We suggest you make use of your ceiling fan light as a fresh resource for your home's interior design with our assistance.
Can Ceiling Fan Help You Save Your Costs?
Everyone enjoys having a ceiling fan that is functional and efficient. Using ceiling fans might help you conserve energy and cut your monthly expenses. This is because they frequently have lower operating costs than an air conditioner and may be quite efficient when used in conjunction with one.
As you reduce your energy bills, you may also want to reduce installation costs. With RG Electric, you won't be overcharged for every simple detail like with other companies.
Costs?
The number of costs depends on many things. At RG Electric, we will do all in our power to provide the greatest service at a reasonable price. In Los Angeles, installing a ceiling fan costs an average of $246, ranging from $144 to $352. Installations that are difficult to procure or complex may cost up to $600, with labor charges ranging from $100 to $250.
However, the cost per fan might be reduced by the service provider if you install many fans at once. You may also get a free quote on fan installation jobs from RG Electric. We are open and honest about our prices and services.
Our Ceiling Fan Installation Services
We understand that every customer has a different need, and we try to fulfill all the requirements our customers might have. Therefore, families in Los Angeles can count on RG Electric's qualified professionals to offer dependable ceiling fan installation and repair services, including:
Installing a second fan or mounting a fan in places where there was previously none.
Incorporating light into an existing ceiling fan's base.
Modifying ceiling fans, so there are no vibration sounds.
Replacing an old ceiling fan with a new model that is also energy-efficient.
Installing a ceiling fan and light combo in place of an existing light fixture.
Do you have a hard time saying goodbye to your old ceiling fan? Or maybe you just want to save some money. In either case, at RG Electric, we can also assist you with ceiling fan repair services:
We can restart your fan if it has stopped working and you're not ready to upgrade it.
If the ceiling fan has a separate wall light switch, we can install a dimmer.
An outdated ceiling fan may be taken down, and a light fixture can fill its space.
We can repair the not working or flickering light on your fan. Alternatively, we might equip a ceiling fan without light with one.
Tips to Buy the Right Ceiling Fan
There is a wide choice of ceiling fans, and you may have difficulty deciding which one to choose. RG Electric will assist you in selecting the ideal ceiling fan for your house based on your requirements and finances.
We also have some suggestions about what to take into consideration when choosing a ceiling fan:
Proper fan size for your room.
Large CFM, or cubic feet per minute.
A motor that can increase CFM and has no vibration.
Angle and number of blades
Energy-efficient design
Choose RG Electric for Quality Work Done On Time!
It might be challenging to choose the ideal contractor for ceiling fan installation because of so many existing businesses. Our experienced team of RG Electric is ready to help you positively change your house design by installing a proper ceiling fan and making your rooms more convenient.

Hiring an untrustworthy business means low quality and the risk that you will have to make all the installations again in the future. So remember — with just one phone call, one of our electricians with more than 10 years of expertise will be at your door!