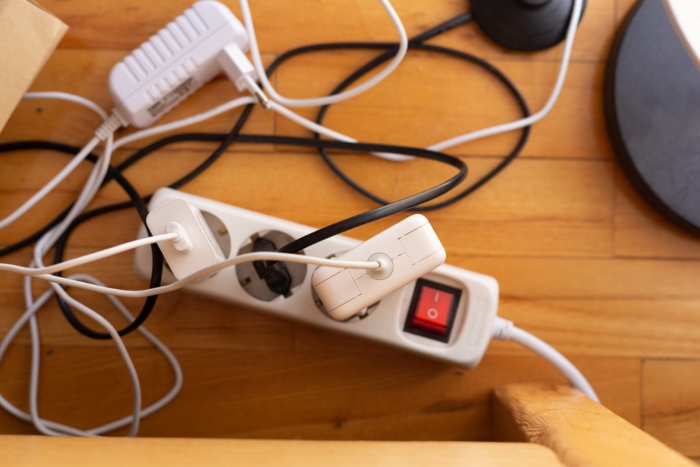 How To Use A Power Strip? Safety Tips for Your Home
Are you tired of looking for free power outlets to charge your devices at home? Or maybe you just want a quick way to simultaneously provide power to several electronic machines. In either case, understanding how to use the power strip can be helpful!
The reason is that many devices require a power supply to work properly in our houses. Therefore, power strips are now commonplace in many of our homes. Even though a power strip may not be the most crucial electrical device in your house, it is nevertheless essential to utilize it to safeguard your house and your appliances.
Do you plan to use a power strip at your house? Then you are in the right place. No matter your main goal, you can safely take advantage of power strips with the tips and suggestions of RG Electric's experts.
How to Use Power Strips Properly
You may think that some of the electrical work might be easy to do yourself, just like using power strips, but don't be so sure since electrical fires are extremely common.
However, it's easy to avoid possible damage to your home. All you need to do is to be aware of all the proper usage and instructions. So, let's take a look at some tips to understand how power strips function and get the most out of them!
Use Power Strips For Small Loads
Power strips were created so that devices could be powered simultaneously, such as a computer and a tablet or a radio and a lamp. Considering this, they usually can't manage even a single large item, such as a power tool or space heater.
Make sure the strip you choose will meet your requirements and avoid overvoltage on a strip as it can result in electrical fires or blown-out appliances.
Unplug In A Short Time
Even though they can survive for a few days or perhaps a week or two, they are not intended to be used in place of suitable electrical outlets for a long time. They are weak, and if they malfunction, your technology might as well. So, if you're going to need it for a while, think about some better and safer options.
Protect the Surge
Surge protectors are a better option than power strips. It's important to keep in mind that a surge protector serves the same purpose as a power strip while also adding protection for your appliances from potentially harmful and damaging power surges.
It is often easy to identify surge protection devices by their box and by a small light or switch indicator. You can protect your equipment from surges and deficits with this simple but important device.
Safety Tips for Your Power Strip From RG Electric
A power strip using instructions that are already familiar to you. However, there are many characteristics about them that people are unaware of. Safety tips are always beneficial when we talk about electricity.
Use your power strip with the following tips in mind to guarantee your safety:
The power strip's applicability to your home should be your initial consideration. Make sure it has enough connectors to accommodate your needs and that it can manage the electricity you intend to use. Power strips come in a variety of styles, so it's important to consider this aspect when selecting the best one.
Keep in mind that connecting strips to strips is not a good idea. Regardless of how inventive you think it is, it is one of the quickest ways to start an electrical fire.Try to get a longer power strip or find a more safe alternative.
Some people don't realize the danger that comes from long-used power strips. Use them only when you need them – for a short period of time. Particularly when power strips are used in place of surge protectors, they are not meant for long-term use.
Always keep in mind not to conceal power strips or cords with fabric or cloth. After some time, they can become hot enough to start a fire.
Final Thoughts – Get Safe Electrical Services From RG Electric!
You now know the safety warnings and suggestions for using power strips at home. You can use basic electrical equipment safely if you understand these tips. The better option is always to hire a professional when a complex electrical operation is involved.
There are more gadgets to keep up with every day, and the certified electricians at RG Electric can help you keep access to our upgrade and outlet services.
Get the safe electrical access you need right away by contacting us online!