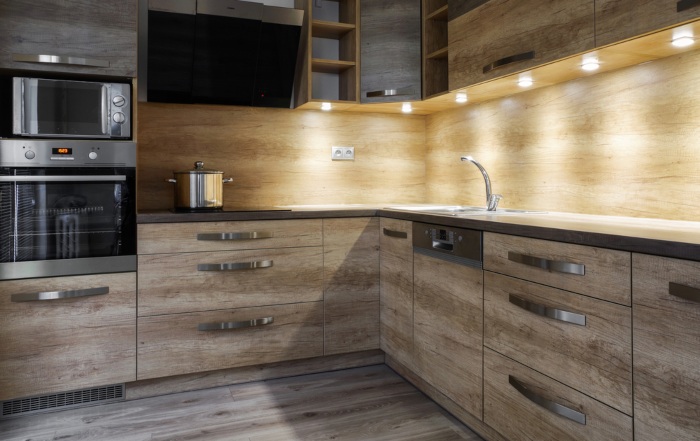 How to Install Under Cabinet Lighting
Many people don't give much thought to under cabinet lighting until it is installed in their kitchen. Yet the kitchen is a social gathering spot and a workplace, so we need one kind of lighting for ambiance and different types to work by.
Today RG Electric will explain how to install under cabinet lighting to make your kitchen glow.
Under Cabinet Lighting: Pick Your lights
First, you need to choose your lights. Plugins are easy to install since all you need is a wall outlet. However, hardwired systems should be installed by professionals.
Types of plugins include pucks, strips, tapes, and ropes.
Puck lights give scalloped pockets of light. Space them about 8 to 12 inches for a more even lighting.
Strip lights imitate flooded light. Just choose fixtures to match the length of your cabinets.
Rope and tape lights have even illumination. They are perfect for large areas like the top of your cabinets. You can also pick light colors too. For example, warm colors work best for the ambient light, while cool colors are best for task lighting.
It's important to buy fixtures from the same product brand to ensure color consistency and make sure your cabinet faces hide the lights. You need to make measurements to check that.
Steps to Install Under Cabinet Lighting
Step 1
No matter what lighting fixture you use, begin by putting the lights, wires, and power hub on the countertop to check the layout. It's best to position lights near the top of the cabinet. Plus, the cables must easily reach the outlets.
Step 2
When it all looks good, twist off the lighting lens. Hold and mountain a cap in place underside and use a pencil to mark holes.
Step 3
Drill holes and then reposition the cap and fasten it with screws.
If you want to recess the puck light in the top of cabinets, drill the holes using a hole saw, run the wiring and tighten a mounting cape.
Step 4
Next, connect the lights, twist, and lock.
Step 5
Fasten the power control and power hub with screws.
Step 6
Run the wires to the power hub and connect them to the plug.
You may need to drill through the cabinet to run the wires in a way to hide them. In this case, use plastic cord clamps to secure them and tuck extra cables in the space between the cabinets.
Step 7
Plug the power cord into the outlet and turn on under cabinet lights.
Installing Different Types of Under Cabinet Lights
To wire LED under cabinet lights is the same. You need to attach them with screws and wrap the jumper cables to link the lights together. Plug them in, and that's it.
Rope lights are great for ambient lighting. Simply fasten them with the included clips and plug them in.
Tape lights work the same way, except all you need to do – is remove adhesive packing and press on the cabinet.
What if your kitchen space is small? You can try battery-powered lights –peel and stick and then press onto the switch.
Whether for a task or décor, your kitchen will shine with under cabinet lighting.
When To Hire An Electrician to Install Under Cabinet Lighting
The under cabinet lighting wiring described above is pretty straightforward; however, in most situations, homeowners still need to link it to a power source to provide 120 volts for the hardwired under cabinet light. We recommend hiring an electrician or electrical contractor to bring power to the junction box.
Furthermore, if you don't have outlets in your cabinets, you will have to get a professional electrician's help to install them before proceeding.
Finally, the hardest part of the wiring under cabinet lighting is buying the right supplies. You may come across detailed step-by-step explanations of the installation, but the truth is that each kitchen setup and layout is unique. This means that the installation process we offer in this article will not match your installation ideally. In our view, only an electrician can determine which supplies to buy to wire under cabinet lights in your kitchen. If you live in Los Angeles and need an electrician to install indoor lighting, don't hesitate to call RG Electric. We provide one-stop electrical services throughout the LA Metro Area.