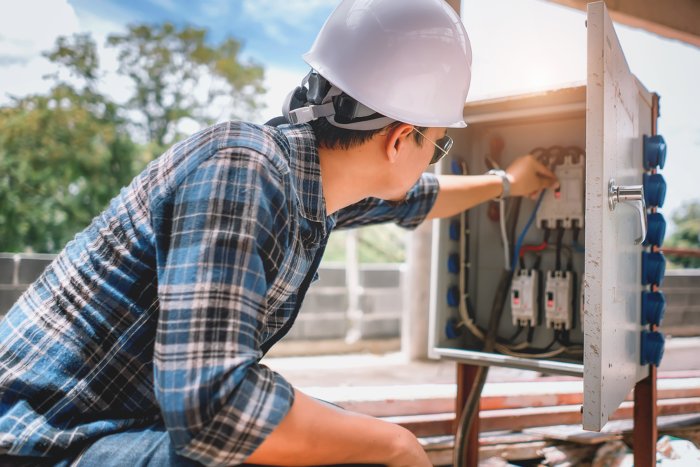 Electrical Contractor or Electrician?
A Los Angeles electrical contractor and electrician often seem to be perceived as synonyms. However, as RG Electric elaborates on the subject, you'll be able to distinguish between the two roles the two professions play in providing electrical repairs and installations in commercial, residential, and industrial buildings.
What is an electrical contractor?
According to the National Electrical Contractors Association (NECA), the electrical contractor is a business or firm licensed and certified to do the installation, design, and maintenance of electrical systems in three types of facilities – homes, offices, and industrial buildings like factories. Furthermore, the business is split up into three categories:
Inside technicians that do the job inside homes or buildings.
Outside technicians that work with electricals outside facilities.
Integrated building systems contractors that handle climate control, lighting, etc.
Electrical contractors and electricians aren't the same?
These are not the same. To some degree, an electrical contractor was thought to be an individual who has a master electrician license or a master electrician with a contractor registration. However, you'll see that there's much more responsibility to the role of an electrician contractor.
What is an electrician?
An electrician is an individual who is a licensed tradesperson to conduct electrical works. That person can't be self-employed unless he is registered as a contractor. Many electricians work for electrical contractors, but you can also find many working as individual business persons. Depending on their competence and license, they usually fall under journeymen and master electricians.
The major difference between an electrical contractor and an electrician is as follows:
Pros of the electrician contractor
Besides electrical repair tasks, electrical contractors cater to a variety of electrical duties that cover:
Installing and maintaining electrical equipment
Handling administrative duties, such as:
Customer service
Consulting with clients
Scheduling appointments
Managing paperwork.
In regards to maintenance work, it involves:
Wiring system troubleshoot
Replacing and repairing time-worn electricals
Restoration work to electrical systems
Wiring installation and work with power tools
All this work can be operated at homes, construction sites, and commercial facilities.
Should I call for an electrical contractor or electrician?
The scope of service delivered by an electrician contractor is much broader than that of an electrician. This is why when it comes to deciding between the two, we advise that you hire the electrical contractor that already has a staff of qualified electricians to cover the different needs of their clients.
What does RG Electric Do?
We are licensed to carry out diverse tasks, depending on their nature. For example, when you hire us for outdoor lighting installation, we'll prepare a project. This means that RG Electric will work out a detailed plan tailored to its client design and other requirements. Then, with the settled design and budget, we'll schedule out the work and start the installation.
Similarly, if you need high-voltage power transmission or low-voltage lighting, RG electric, as a licensed, bonded, and insured contractor can make sure these systems work in a safe, effective, and environmentally-friendly manner.
While you may find some similarities between an electrical contractor and an electrician, the latter is a business entity or company that employs electricians.
RG Electric is staffed by qualified electricians to provide electrical repairs in Los Angeles and its suburb areas.
You can call (323) 5215131 or get a free quote. A trusted Los Angeles electrical contractor has the best certified electrical technicians for all your electrical repair needs.