Sherman Oaks Electrician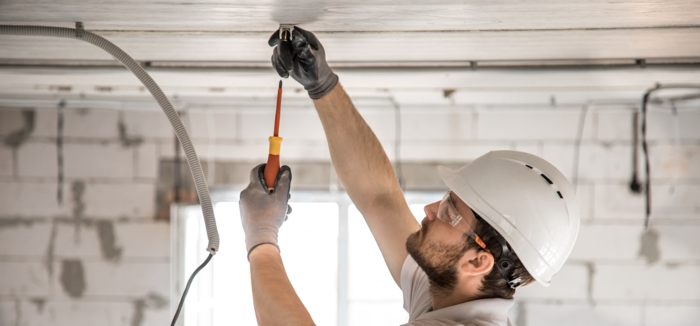 Sherman Oaks, located in the San Fernando Valley, is a Los Angeles neighborhood popular among families preferring suburban comforts. However, any comfort is hard to imagine without a properly working electrical system in our homes. Even more, faulty electricals can pose a health risk to our beloved ones.
Sherman Oaks electrician services exist to keep your lights on and make sure that every electrical device or appliance plugged gets enough power and the electrical load is proportionally distributed throughout your wiring system.
How to Use Our Sherman Oaks Electrician Services
It's pretty simple to use our RG Electric electrician services for Sherman Oaks. No matter the electrical issue, we'll discuss everything that needs to be done for a hassle-free experience. With seasoned Los Angeles electricians on our board, you can be sure that your electrical system is in good hands.
The following process is involved in our service:
A reliable estimate for electrical repairs;
Diagnosis and detection of faults and defects;
Repair or installation of electrical systems;
Electrical system testing after repairs
Compliance with NEC standards;
Ensuring the safety standards
Sherman Oaks Electrician Estimate
If you are going to upgrade your electrical panel and looking to hire an electrical contractor, we can send a local Sherman Oaks electrician to do a site analysis, ensuring that the quote is accurate. We believe that an accurate estimate is key to good customer service, so it is in our best interest to provide you with the correct estimate possible.
Detecting Faults and Defects
Our electricians detect and correct the most frequent problems related to electricity and electrical devices. We pride ourselves on electricians that hold on to the highest standards in the industry with the advanced equipment to identify any defects.
Repair and Installation
Once the problem is verified, we'll try to clear it in a very short period. All electrical repairs and upgrades, from ceiling fan installations, outdoor and pool lighting, and outlet repairs to panel and wiring upgrades, will be addressed in the most efficient and professional way.
Testing After Repairs or Installations
After we fix your electrical issue, the next step is to check our electrical repairs or installations to ensure that they work properly and everyone remains safe in your home. In addition, we can also perform routine inspection checks, for example, once a year, to ensure that all installations are fit for purpose and safe to use.
Compliance with NEC Standards
RG Electric has been serving customers for almost a decade, and we pride ourselves on our knowledge and expertise in the electrical niche. Every single electrical technician in our team is highly trained and can be relied upon to follow the industry-standard guidelines.
What Else You Can Expect from the Sherman Oaks Electrician
There are more things to expect from a reputable electrical contractor. These are tailored service that meets the needs of your budget, timely response, and cleaning up after the work is done.
Satisfying Your Electrical Needs on a Budget
Our experienced Sherman Oaks electrician can estimate a job accurately, meaning there should be no surprises when you get your check at the end of the project.
Timely Response
If you have an electrical emergency or need an electrician for general repairs, you want someone who responds quickly and can schedule a home or business visit in a timely fashion.
Our electrical company is well organized and has enough staff members to handle the demand. In addition, with our 24/7 Sherman Oaks electrician services, you won't need to wait long hours or days for the electrician to visit.
Cleaning Up After the Project is Completed
For example, when an electrician comes to your home to fix an electrical problem or install a lighting fixture, you should expect that they treat your home with respect.
Our RG electricians are required to leave the area where they were working clean. So whether these are muddy footprints, the garbage that has to be disposed or other messes, our electrical professionals will leave the work area as they found it.
Sherman Oaks Electrician Service Options
We recommend filling out an online form to get an initial quote for electrical works that have to be done. We offer very competitive rates for general repairs and installations.
Our services, although not cheap, are by far more affordable than what you can get from our competitors.
RG Sherman Oaks electrician services also include:
Other Neighborhoods Near Sherman Oaks We Service
Sherman Oaks is one of the closest suburbs to the region of Los Angeles, but we are also servicing clients in:
Beverly Hills
West Hollywood
Burbank
San Fernando
Santa Monica
Culver City
Glendale
Calabasas
We can get to Sherman Oaks in less than 30 minutes in an emergency call.