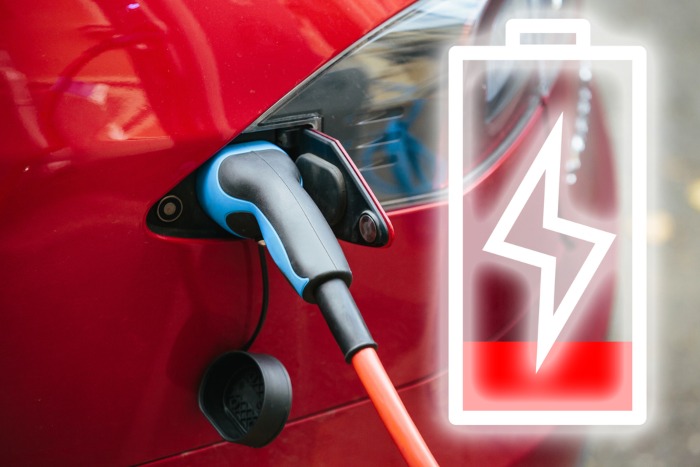 Your Tesla Charger is Flashing Red? Answered!
One day you wake up and find that your car isn't charged. So when you come out to check what is going on, you see the red light on your Tesla Charger wall connector blinking six times with no other light indications on it whatsoever.
When you charged the car overnight, thinking that you would have enough battery to get you to and from work the next day, this wasn't the case. Instead, you had to go to the supercharger to charge your auto. And the most frustrating thing is that you didn't get a notification on your phone that your car wasn't charging to address the problem immediately. What to do?
You've had a wall connector for a couple of years and never had an issue with that, so you know it has nothing to do with your wiring. Yet, you can't charge your car, and the wall connector is flashing red six times. This is the most common complaint about Tesla chargers our RG Electric electricians receive from Los Angeles residents.  
If you run into this trouble, this is what you have to do.
Fixing A Tesla Charger Flashing Red
First, you need to go to a supercharger near your location, and if your car has been charged, it isn't the vehicle to blame.
Look at the Tesla Charger manual to identify what the flashing red light on the Tesla wall connector means and then fix the fault.
Plug a wall connector into the car and see the message on the screen;
When you plug the car in, you see a blue tesla sign (on a car) indicating that everything is perfect. However, the red continues to flash on the wall connector;
Take a look at the manual screen. It is likely to say: "Charging equipment isn't ready. See equipment instructions to start charging."
On the Tesla manual, go to page 27 to find your condition: "The green light is off, the yellow light is off, and you have 6 red flashes, and auto-retries every 1 minute. This means that communication error occurred between the wall connector and the vehicle.";
You can try to disconnect the wall connector from the vehicle and reconnect it. If it didn't work, continue to read;
Scroll down and read the instructions. It says that you should reset the wall connector;
Remove the cover of your wall connector to get to the Reset Button located underside of the charger;
Press and hold it for two-three seconds until it changes to green light;
When it changes green, try to plug in your car to see if it actually works.
You want to see a green light on the wall connector and your vehicle, indicating that the problem has been fixed. 
Call Us (323) 5215131
What To Do When A Tesla Charger Is Flashing Five Times?
Tesla Charger blinking five times indicates a power-sharing communication hiccup, slowing down the charging speed.
What you can do is check objects that may interact with the Wi-Fi's signal strength in the area. Use your mobile device to relink the wall connector for power-sharing.
What To Do If Your Tesla Charger Is Blinking Four Times?
Four red lights point out that the internet connection was lost and the online features are turned off. You will have to troubleshoot for objects that may reduce the Wi-Fi's signal strength and make sure that the Wi-Fi router is working properly. Also, you may need to upgrade the Wi-Fi setting using your mobile phone if you have changed the Wi-Fi password recently.
When You Need To Call An Electrician Near You?
If your Tesla Charger is flashing one, two, or three red lights, you better call a Los Angeles electrician to fix the problem. And here is why:
One red light shows that there's an unsafe current path causing ground fault interruption;
Two red lights on the charger unit indicate that there's a potential high ground resistance occurring;
Three red lights point out that a high temperature has been detected.
Note: Seven red lights mean overcurrent. You will have to contact Tesla if the issue persists after reducing the vehicles' charge current settings.
These three situations require the attention of the licensed electrician to check the earth-ground wiring and ensure that the size of the conductors and the terminal block meet specifications. RG Electric provides electric services in the LA Metro Area. So If you need assistance with EV charger installation and troubleshooting, call us any time, and we will be happy to help you out.
Call Us (323) 5215131