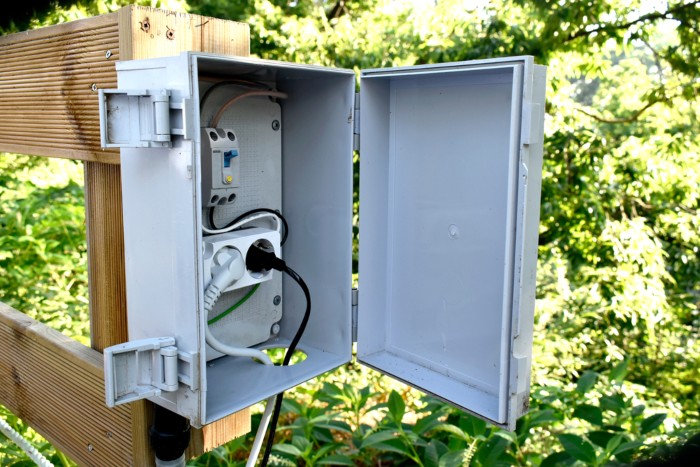 Outdoor Outlet Box – Deciding On The Right One
We often use outdoor outlets on the deck or patio or when we need to trim grass in the backyard. However, certain NEC regulations allow the use of highly weatherproof sockets and outlet boxes.
In this article, RG Electric, a professional electric contractor in Los Angeles, will provide insight into your outdoor outlet box choice.
What Are the Common Uses of an Outdoor Outlet?
You can opt for a gasoline saw or drill when working outdoors on building projects, but an electric one is much cheaper, lighter, and easier to use. Here are a few examples of when you might need an outdoor outlet:
Power saw – to cut through wood, plastic, or metal.
Electric trimmer – to cut branches and trim bushes.
Submersible electric pump – to pump down water to floor levels.
Water compressor – to help the water flow through pipes.
Leaf blower – to move debris such as leaves and grass cuttings.
Electric grill – to enjoy a barbeque with friends.
In fact, there are many more scenarios for using an outdoor outlet; for example, you can power a stereo system or TV or use a microwave oven outside.
Types of Outdoor Outlet Boxes
Outdoor outlets must have a special box that prevents moisture from entering inside the box. Whether surface mounted or flushed mount outdoor outlet box, it should be made from highly durable materials to successfully operate at low temperatures or summer heat. As a result, when the device is directly exposed to sunlight, this doesn't affect its lifespan.
In addition to the listed advantages, some models have additional functions and security features. To determine exactly which exterior electrical box to choose, you need to know about the models available on the market today.
Outdoor outlet boxes vary by the degree of protection from moisture. The most common among these models are:
IP44 Waterproof Outdoor Outlet Box
This product effectively protects from direct water splashes, thanks to a protective shutter that covers the electrical conductors. Despite fairly good insulation, such a product should be installed no more than 6 ½ feet above the ground to minimize the impact of negative factors.
The IP44 socket is the most common and inexpensive model for outdoor use. You can employ it for landscape lighting, garden power tools, pool pumps, or Christmas and other holiday decorations.
IP55 Exterior Electrical Box
This outdoor outlet box has more protection than the ip44 model. Yet, we don't recommend installing it at the snow level; otherwise, the product may fail.
IP55 outlets and switches protect against water splashes and the direct force of the water jet. They are ideal for transformers and terminals, CCTV camera terminations, etc.
IP66 Waterproof Outdoor Outlet
It has the highest possible degree of protection against moisture; therefore, it can be installed outdoors at various heights without fear of snow getting inside.
Such devices have a high degree of protection against moisture ingress and a rather high cost. So you don't need to purchase such an outlet unless there is a need for this. They are often applied in alternative energy, oil and gas, telecommunications, and other industries.
You can easily figure out the level of moisture protection. The higher the IP, the more protected the outlet box is from adverse environmental factors.
In addition to differences in the degree of protection from moisture, outdoor products can be of the following varieties:
Double Weatherproof Outdoor Socket Boxes
Double waterproof socket – combines two sockets under one housing unit. Double outside outlet cases may come with different "IP" values. A socket with greater protection against moisture ingress has a greater value of this indicator.
Outdoor Outlet Box with Orientation Light
An outlet like this makes it easy to locate it in the dark. These are usually manufactured with an IP44 degree of moisture protection, but when properly installed, they function very well even in adverse environmental conditions.
Regardless of the model of the exterior electrical box, you should connect to it electric tools and devices that match the voltage of the outlet; otherwise, it can lead to overheating and fire hazards.
In any case, when installing a weatherproof outdoor outlet box, you must follow a few rules:
The cable that connects to the outlet must be grounded.
It should have at least double insulation.
The cable must be pulled to the outlet from below so that the migrating water along it does not get inside the box.
Any 120-volt outdoor outlet must have GFCI protection.
Get a Help with Choosing the Right Outdoor Outlet Box
When choosing the right outdoor outlet box, there are more things to consider – it should match its intended purpose. If you don't know which electrical box you need, contact our Los Angeles electricians to receive expert guidance.