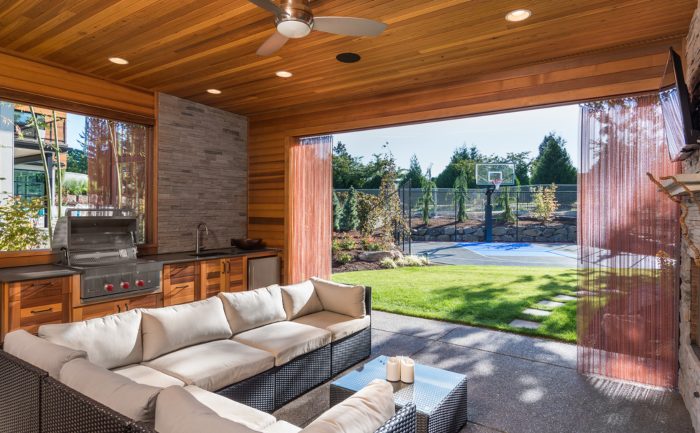 Damp vs. Wet-Rated Outdoor Ceiling Fan for A Covered Patio
fan outdoor usage damp vs wet covered patio
Covered patios are great outdoor spaces where we can enjoy the natural landscape of our homes. A good one is a combination of design, architecture, and functionality. Speaking of functionality, one of the important elements is a suitable outdoor ceiling fan. But we found out at RG Electric that few know the difference between a damp and wet-rated ceiling fan. Too often, we are asked if there's any difference between the two and if there's, which works the best for a covered patio.
RG Electric will try to dig into this to answer questions about the two types of outdoor ceiling fans.
What is a Damp-Rated Ceiling Fan
UL (Underwriters Laboratories) classifies fans into several categories depending on their intended location. As the name suggests, the damp-rated fan is meant to withstand moisture and humidity. So it can be a good fit for covered outdoor areas, such as screened porches, decks, and walkways, including covered patios. They are also used in bathrooms and garages.
What is a Wet-Rated Ceiling Fan
An outdoor wet-rated ceiling fan is manufactured with extreme wet weather in mind. Therefore, the parts it is made of can handle snow, heavy rains, etc. In other words, this fan isn't afraid of direct contact with water or rain. Therefore it is best used for comfy spots like open-air decks, exposed verandas, patios, half-covered pool areas, open dining areas, etc.
The Usage of Damp vs. Wet-Rated Fan for a Covered Patio
Both fans are designed for outdoor areas, but there's a significant difference in durability.
Damp Rated Fan and Direct Exposure to Rain
Damp fans can tolerate wet, but the degree of moisture matters. Overall, these ceiling fans can:
Endure a light mist
Condensation on the parts
However, when it comes to direct exposure to rain or harsh heat, they are less damage resistant.
Wet Rated Fan and Direct Rain Exposure
Outdoor wet fans encompass all the features damp fans have and beyond. Typically, they can:
Handle rain, sleet, and snow
Endure rust and UV rays.
As a result, made from stainless steel, powder-coated paint, and other high-quality materials, these waterproof and weatherproof fans boast a high level of damage resistance.
What Happens If You Choose The Wrong Outdoor Ceiling Fan
For example, if you install a damp-rated fan in an uncovered area, it will deteriorate too soon. As a result, your ceiling fan may start wobbling, making odd sounds, or just stop turning on. It happens because direct exposure to moisture, rain, or sun affects an electric motor, safety cables, ceiling mounts, and blades. Unlike its more universal counterpart, a wet-rated ceiling fan, it simply can't handle the elements for a long time.
How to Choose The Right Outdoor Ceiling Fan for a Covered Patio
When deciding between damp and wet-rated ceiling fans, here are some tips from RG Electric:
Choose a wet-rated fan for your covered patio if you live in a part of the U.S. with heavy downpours;
If you live alongside a coast with some salt in the air, you may use a wet-rated or damp-rated fan;
Opt for a damp-rated outdoor ceiling fan if you are planning to install it in spots protected from direct contact with rain, snow, and water;
Outdoor ceiling fans in the covered patio with remote control better be wet-rated;
Never use indoor ceiling fans for the covered patio.
Need Help With Installing a Damp or Wet-Rated Ceiling Fan?
If you don't know which UL-rated outdoor ceiling fan to install, call RG electric. Our Los Angeles electricians provide ceiling fan installation and repair services. We can discuss ways to maximize your space and improve air circulation so that you may stay cool during hot months of the year.