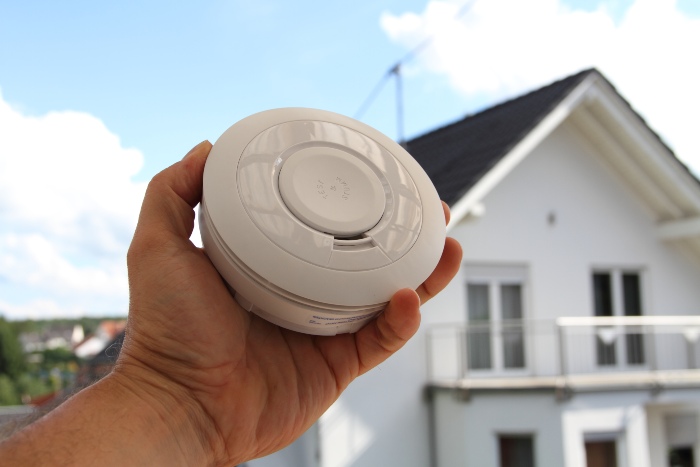 Carbon Monoxide Detector – Where to Place?
Carbon monoxide detectors offer an effective way of detecting the presence of carbon monoxide. The working principle of carbon monoxide detectors is similar to smoke or fire detectors. The fire detector triggers an alarm when there is a high carbon monoxide (CO) concentration in the air.
As a leading carbon monoxide installation expert, RG Electric has carried out a study to explain the benefits of installing a carbon monoxide detector, the working principles of carbon monoxide detectors, what to do when your carbon monoxide detector goes off, and more.
Statistics show that about 430 people in the United States die from carbon monoxide poisoning every year. The stats also show that about 50,000 people are hospitalized yearly from CO poisoning. Carbon monoxide may be produced by kerosene heaters, furnaces, lanterns, stoves, warmed-up vehicles in garages, portable generators, gas ranges, and more.
It can build up in partially or fully enclosed spaces, and when inhaled, it may react with your body's hemoglobin and lead to a depletion of oxygen in your body.
What are the different types of carbon monoxide detectors?
The types of carbon monoxide detectors depend on the working principle of the detector and may be classified into the following:
Some carbon monoxide detectors have biomimetic sensors in the form of a gel that changes color when the carbon monoxide concentration reaches an alarming level. The sensor triggers an alarm warning you of a possible carbon monoxide leak when this happens.
Metal oxide semiconductor
Some semiconductors are designed with metal oxide semiconductors that trigger an alarm when the level of carbon monoxide becomes high enough to cause a reduction in the electrical resistance of an electric circuit.
Carbon monoxide detectors with an electrochemical sensor trigger an alarm if the carbon monoxide concentration submerges the electrodes in a chemical solution.
What are the benefits of installing a carbon monoxide detector?
The benefits of installing a carbon monoxide detector in your home include the following:
It warns you of household dangers
Installing a carbon monoxide detector in your home helps protect you from being poisoned by the gas that has been termed a "silent killer" since it is odorless and colorless. The device warns you to act if the CO concentration gets too high.
Carbon monoxide detectors help identify faulty appliances
Carbon monoxide leaks may indicate that your coal or gas-burning appliances may be faulty. It helps you identify the possible cause of a leak.
It gives you access to a remote and central monitoring
Carbon monoxide detectors allow you to monitor a carbon monoxide leak in your home from any remote location.
It protects vulnerable family members.
Children and the elderly may be vulnerable when there is a carbon monoxide leak in your home. Installing a monitored carbon monoxide detector can automatically send an emergency message to the police or firefighters for emergency response.
Carbon monoxide detectors offer you peace of mind.
Installing carbon monoxide detectors offers you peace of mind while away from home or when you sleep because you know that everything is under control.
What to do if your home's carbon monoxide detector sets off an alarm
Most people tend to panic when they hear the alarm of their carbon monoxide detector setting off. Here is what you should do when you hear the sound of your carbon monoxide alarm
Panicking may cause confusion. So it is best to stay calm and ensure that everyone in the house goes outside to breathe fresh air. While going out, open the doors and windows of your home along your way out.
Check everyone's health condition.
Look out for flu-like symptoms as that may be a sign of carbon monoxide poisoning.
Call for emergency response.
Call 911 if you notice signs of carbon monoxide poisoning.
Wait till the alarm goes off before entering your home
It is not advisable to go back into your home while the alarm is on. Wait till it stops or when an emergency response team certifies your home to be safe.
Contact a professional to ascertain the source of the carbon monoxide leak
It is important to hire a professional to find out which fossil-fuel-powered appliances like stoves, water heaters, boilers, and furnaces may be responsible for the leak
Call RG Electric for your carbon monoxide detector installation
Carbon monoxide detector installation has saved many lives. The benefits of installing carbon monoxide in your home cannot be overemphasized. RG Electric installs carbon monoxide detectors in homes, and we urge you to contact us today.