Granada Hills Electrician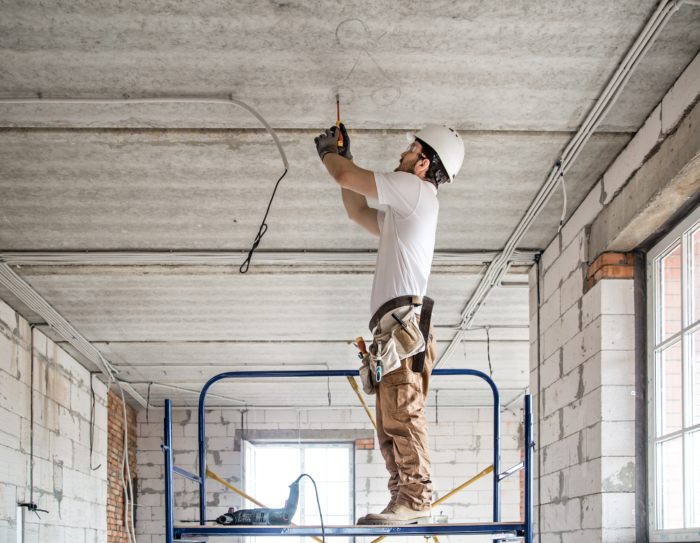 Granada Hills electrician of RG Electric is ready to solve any of your electrical issues. With ten years of experience, the reputation of our family-owned company has spread throughout Los Angeles.
We specialize in conventional residential and commercial electrical services, such as electrical repairs and installations. Our team can perform all types of work, including electrical panel upgrades, circuit breaker repairs, new wiring, solar panel installations, and more. You can rely on our electricians because they are trusted and can do the work promptly and in line with electrical codes.
At RG Electric, we strive to provide safe electrical services for homeowners in Los Angeles neighborhoods, including Granada Hills.
The Prompt Electrical Repair
It isn't always easy to figure out when there's an electrical issue in your home that has to be addressed. Some problems don't make themselves apparent, and only regular inspection can reveal them. Nevertheless, if you notice something unusual with your electrical, don't delay to look at it. Instead, get in touch with a Granada Hills electrician for troubleshooting. Meanwhile, check the following things in your house.
Frequent Power Outage
Power loss is often associated with a problem that affects the entire community. However, this isn't always the case. For example, your faulty wiring may cause a power outage in the entire house or separate rooms. To detect the problem, RG Electric will locate the problem and fix it.
Buzzing Outlets or Switches
What else can be indicative of a potential issue with your electrical system? As you know, every outlet and switch has wires behind the wall. When they get loose or damaged, your outlet or switch may start making buzzing sounds. Often, it may feel warm when you touch it.
The best decision in this situation is to contact a Granada Hills electrician to perform diagnosis and necessary repairs.
Broken Electrical Panel
Flickering lights in the house, sparks from the panel, tripping breakers, and overheated appliances are signs of a damaged electrical panel. Also, a burning smell and burned spots mean your electrical panel has seen its better days.
If you notice any of these signs, RG Electric will dispatch an electrician crew to get your panel upgraded and working as it should.
Emergency Electrical Solutions
It isn't unusual for an emergency to happen when you don't expect it. For instance, you may start hearing humming sounds from your breaker in the middle of the night. So would you wait until the morning to get help? In no way. You should call an electrician immediately because delay can lead to a risk of electrical fires.
If you need home electrical or emergency repairs, our Granada Hills electrician is ready to come out any time and day during the week. We are available 24/7.
Whole-House Surge Protectors
Power surges in California happen for a number of reasons. For example, it can occur when the power is restored after a blackout or due to lightning strikes. In addition, as summer creates increased energy demands to cool homes and businesses, it causes electrical overload on the grid. Then, the most vulnerable items in our house are our appliances that can be easily damaged during these power spikes.
If you want to protect your computer, gaming systems, TVs, and other electronics, you should consider installing a power surge protector. It functions to balance the power overflow through your electrical panel to ensure no excessive hazardous current of electricity is allowed to flow through your wiring and harm your devices and appliances.
You can book the service with RG Electric, and one of our Granada Hills electricians will install a surge protector and connect it to your electrical panel. Also, if you need a backup generator installation to power your home during a power outage, we can do that as well.
Lighting and Ceiling Fan Installations
We can handle any type of lighting and ceiling fan installation. So whether you need landscape or indoor lighting, our skilled technicians can make your home look nice and make sure you receive enough light and air throughout the rooms.
If you have questions about ceiling fans and lighting, call RG Electric. We'll discuss possible options and help you develop the best project for your home.
EV Charger Installation
Do you have an electric vehicle but not an EV charger? Then why not get it installed in your home? Although around 445 EV charging stations near Granada Hills, having your own charger is more convenient and cost-efficient.
If you want to find out more on the EV charger installation, contact RG Electric. One Granada Hills electrician can visit your home and decide on the right charger based on your specific needs.
Frequently Asked Questions
Are surge protectors worth the investment?
Surge protectors keep your appliances safe from power spikes. Without them, the odds are high that they will get damaged. Whole-house surge protectors also shield your home from a possible fire that can be caused by excessive voltage in your wiring system.
Can I install a ceiling fan myself?
It's better to entrust this job to a professional electrician. Electrical installations involve many steps and among them is safety. Even a small mistake may lead to fatal electrocution during the process.
How long does it take to charge an electric vehicle?
A couple of variables affect a charging time, such as the size of your car's battery and the charger type. For example, a 70kWh battery plugged in a 7kW takes 10 hours to charge. However, with a 14kW charger, it is likely to take around five hours.