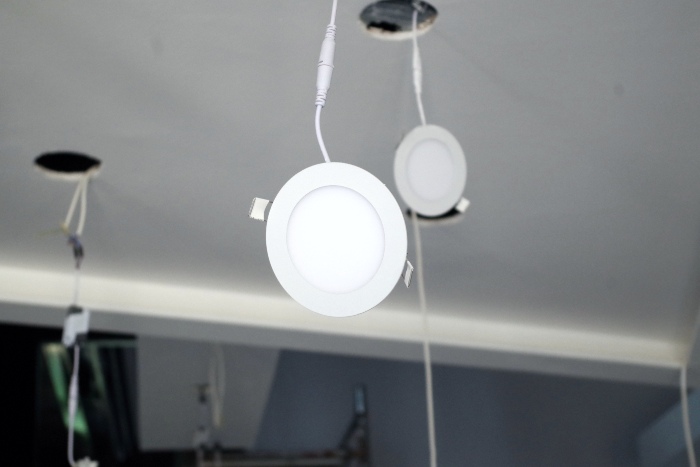 Troubleshooting Recessed lighting
Recessed lights may be used to illuminate a pathway to a landscape on your home and to bring out the beauty of your walls and floors while giving your home a welcoming appeal. Like any other electric-powered device, your recessed light may stop working. RG Electric has provided a list of some common faults associated with recessed lights and how you may be able to troubleshoot simple recessed lighting faults.
To troubleshoot a recessed light, you must know the three primary components of a recessed light including the housing, trim, and bulb or light source.
How to troubleshoot common recessed lighting faults
Recessed lights are designed to be securely attached to your ceiling to give a more subtle but unique feel to your home. With time, you may notice that the beauty of your recessed light slowly fades away, and this may be attributed to the loosening of the trim around the light and fixtures may become exposed.
A sagging light trim issue is easy to identify because it becomes less flush, and the fixture may look wavy before coming off gradually. The primary cause of this issue may be an overstretching of the spring holding the trim in place.
The springs have to be removed and properly replaced to fix this issue. However, we advise that you contact a professional electrician that can guarantee a more lasting and effective solution to this issue.
If your recessed light bulb does not turn on, the chances are that the bulb or the socket may be faulty. To troubleshoot this issue, ensure you turn off the light switch and touch the bulb carefully to be sure it is cool. Listen for rattling noise while shaking the bulb or check to see if there are grey or black spots inside as these signs may indicate that the bulb is faulty.
Replace the recessed light bulb with a new one to erase for better clarification. However, if the bulb still does not turn on, the fault may be from the socket. The socket may be damaged, or a wire may be disconnected from the socket. It is advisable to contact a professional electrician to help fix this issue.
Your recessed light may not work if the socket is damaged. There are ways you can identify a damaged socket. The first way is if the bulb does not turn on and you are sure it is not damaged. Another way to identify a blown socket issue is if the fixture produces a slight buzzing sound.
The third is if your bulb blows out continuously after replacement over a short period. To fix this issue, check if the wiring to the socket is loosed or disconnected. You can also choose to replace the socket. However, you should contact a professional electrician if you are not familiar with electrical wiring and connections.
One of the common reasons why your recessed light may not work may be due to the use of a bulb with a very high wattage. It may cause overheating of the light fixture and may damage the fixture. It is advisable always to check the bulb wattage to ensure it matches the light fixture's wattage rating.
If the bulb's wattage is higher than the fixture rating, your recessed light may not work. Therefore, it is advisable to buy a bulb with lower wattage to fix the incompatibility issue.
A limit switch is used in operating recessed lights. If the fixture becomes overheated, the switch may automatically go off. If your light bulb and fixture wattage are compatible and your fixture has enough insulation and air, but the light still doesn't turn on, it may be due to a faulty limit switch. You can call an experienced and licensed engineer to help fix this issue.
Over insulation is a common reason why your recessed light won't work. Over insulation may occur if the space designed for the recessed light to fit into is too tight around the fixture. When this is the case, your recessed light feature may become overheated, and the fixture may blow out or shut down. To fix this issue, ensure that space and insulation around your recessed light canister are adequate to prevent the fixture from overheating.
Call Us (323) 5215131
Contact RG Electric to fix your recessed lighting issues
Are you having a problem with your recessed lighting? RG Electric has experienced and licensed electricians that can help fix the fault and ensure your recessed lights work perfectly.