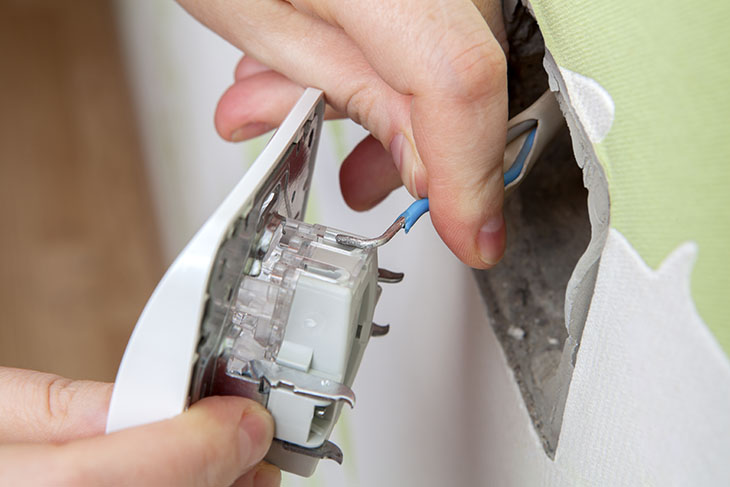 Did you know when electricity was introduced in the late 19th, and early 20th centuries, the light switch was sometimes called the "magic button"? Like Aladdin rubbing his lamp, a single touch immediately transformed a modest room. Moreover, it connected a family to progressive technologies of that time, such as turbines and dynamos, relays and wires, and others that powered America from the early 20th century and on.

And what about today? This technological benefit doesn't surprise us anymore. The sense of magic is lost, and light switches become a banal and unthinking habit. But even with that, when there's no power, the light is missing, or doesn't function properly, a home itself feels unwelcoming. When the switch is there, and it works, it makes all the difference.

Let's see what the most common light switch problems homeowners are encountering.
Light Switch Problems or a Faulty Bulb?
Light switch problems can be twofold. First, when a switch doesn't trigger any light in a room, the problem isn't necessarily with the switch itself. The real problem could lie in the bulb. It might be that the bulb isn't screwed tight enough, or its socket is loose and damaged.
Broken Switch or a Tripped Breaker?
You can blame a bad switch, but the fuse in the circuit breaker can be provoking the problem. Replacement might solve it, yet too frequently, burned-out fuses or breakers indicate the wiring is overloaded.
Bad Switch or Loose Black Wiring?
Loose wiring can be diagnosed after the circuit breaker is off. Once the switch is unscrewed, you may notice the problem and fix it by tightening down wires. After screwing the switch back and turning on the breaker, the lights should work.
Bad Light Switch
If the light doesn't turn on regardless of how often you flip the switch, the switch mechanism may be broken given the bulb is OK and there're no breaker and wiring issues. In this case, a simple replacement will resolve the issue. However, there can be dangerous consequences to doing it wrong.
Light Switch Problems To Be Addressed Immediately
If you notice a switch got hot and hear noises and sparks with smoke, it is likely a dangerous condition requiring immediate attention.
Far-Reaching Implications of Light Switch Problems
It may seem that electrical repairs, namely, replacing a switch or similar, are a trivial thing to do. You have a circuit tester, flathead screwdriver, Philips head screwdriver, and needle-nose pliers, and why not fix it yourself? Nevertheless, any mistake can have serious implications like fires and electric shock. Before you start locating the problem with electrical switches and outlets, consider whether it's worth seeking light switch assistance from a licensed electrician.
We are a trustworthy electrical company in Los Angeles that provides a full range of services. You can call us any time at (323) 5215131.