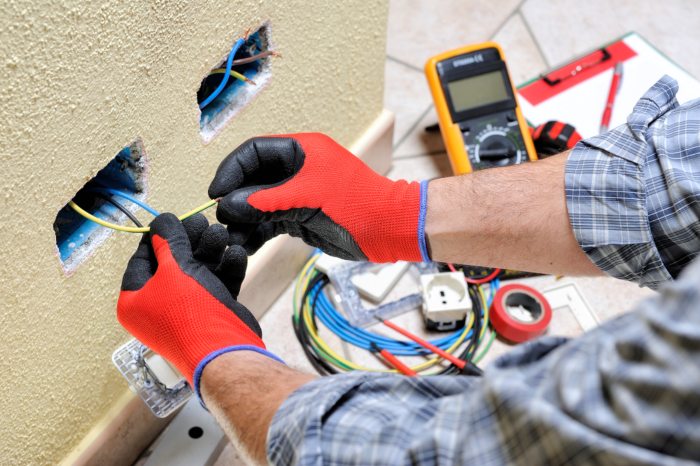 Electrician Gloves – How to Choose
Electrician gloves are a must for any specialist working on electrical projects. Welders, car mechanics, and machine operators also use electrical gloves to protect themselves from dangerous voltage, arc flash, and other electrical hazards.
If you are just getting started in the electrician industry and would like to know more about electrician gloves and how to choose the best product, RG Electric has got this article for you.
How Electrician Gloves Protect from Electrical Shock
Perhaps you know that rubber is a bad electrical conductor because it doesn't have free electrons. So electrician gloves are made from rubber to provide adequate protection from electrocution. They won't allow electricity to flow through them. Overall, electricians should choose to work only with the best tools – that provide extra protection.
Electrical gloves are usually used in combination with a leather protector over rubber gloves. Some may have an inner cotton lining for extra comfort.
Furthermore, rubber insulating gloves come in different colors, styles, and classifications.
What Class of Gloves Do Electricians Use?
Electrician gloves are classified into six categories. These ratings are provided by OSHA (Occupational Safety and Health Administration). Electricians will use a specific class or type of gloves depending on the voltage they are dealing with.
Here is the OSHA classification:
00: Under 500V (AC)/750V (DC)
0: Under 1000V (AC)/1,500V (DC)
1: Under 7,500V (AC)/11,250V (DC)
2: Under 17,000V (AC)/25,500V (DC)
3: Under 26,500V (AC)/39,750V (DC)
4: Under 36,000V ((AC)/54,000V (DC)
In addition, electricians choose gloves based on many other factors.
How to Choose Correct Electrician Gloves
As already mentioned, electrical technicians select gloves according to their class that defines the voltage level used. But some also have different labeling, such as A, H, or Z. What do they mean?
Electricians work in different settings, such as high or low temperatures and potential exposure to acid or oil. As a result, some insulating rubber gloves are also categorized by environmental resistance properties.
A – stands for acid
H – oil
Z – ozone
R – Acid, oil, and ozone
C – very low temperatures
For example, type 1 gloves made from latex are vulnerable to ozone, while type 2 manufactured from synthetic rubber have ozone-resistant characteristics. Class 4 insulated gloves provide a dynamic 50 Cal Arc protection. But don't mix arc flash protection gloves with electrical insulating ones. The former offers only heat protection, and they ARE NOT designed for voltage protection.
Finally, before using the gloves on the subsequent electrical repairs, electricians should inspect them for tears, cracks, or abrasion.
How Can You Know You Are Buying High-Quality Gloves?
You should buy rubber gloves that comply with American Society for Testing and Materials (ASTM) standards. ASTM D120 Gloves is a quality benchmark for insulating and mechanical gloves.
Can You Get Shocked Through Electrician Gloves?
Electrician gloves must be made from 100% rubber and have no holes and tears to protect electricians from electrical shock. If you use damaged gloves and low-quality protective equipment or accessories made with mixed rubber that contain cheaper materials, it will not provide dielectric protection.
This brings us to the following conclusion: Don't skimp on buying a high-quality and tested product because otherwise, it could cost you a life.
5 Best Insulating Gloves for Electricians in 2022
A good pair of gloves must feature electrical protection, physical protection, and proper size for the electrician's hands.
RG Electric has reviewed available gloves on the market and has picked the following five top insulating gloves for electrical works.
Klein Journeyman Gloves – perfect for general work;
DeWalt Electrical Gloves – pricey but protect from electrical shock;
CLC Custom Leathercraft – additional protection to fingers;
Milwaukee Electrical Gloves – extremely durable;
Klein Lineman Gloves – protection down your arms.
RG electricians use the best tools in the industry. So when you call us for electrical repairs or installations, you can be sure we have the right equipment to serve Los Angeles homeowners and solve even the most complex electrical problems to give you a highly professional service and experience.